Nightfly: The Life of Steely Dan's Donald Fagen (Hardcover)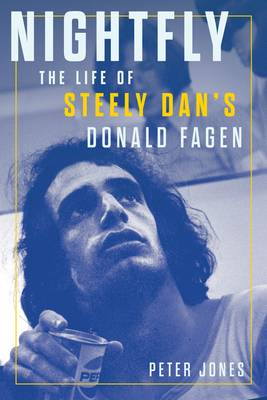 $28.99

Ships from Warehouse, Usually in 1-8 Days
Description
---
Donald Fagen will forever be associated with Steely Dan, the band he formed with Walter Becker and four other musicians in 1972.

The smooth, radio-friendly veneer of the duo's songs made Steely Dan internationally popular and famous in the 1970s, but the polish glossed over the underlying layers of anger, disappointment, sleaze, and often downright weirdness lurking just beneath the surface. The elliptical lyrics were—and continue to be—an endless source of fascination. What kind of person was capable of writing such songs?

Fagen has always kept his true self hidden behind walls of irony, confounding most journalistic enquiries with a mixture of obscurity and sarcasm. Nightfly cracks open the door to reveal the life behind the lyrics and traces Fagen's story from early family life in suburban New Jersey, to his first encounter with Walter Becker at Bard College, their long struggle for recognition as songwriters, and the formation of Steely Dan. The band's break-up in 1981, re-formation in 1993, and Fagen's parallel solo career are covered in detail.

Author Peter Jones seeks to explain the public's continuing fascination with Fagen's music, both in collaboration with Becker and as a solo artist.
About the Author
---
Peter Jones is a jazz musician, journalist, and author. His two recent books are This Is Hip: The Life of Mark Murphy and This Is Bop: Jon Hendricks and the Art of Vocal Jazz. He performs regularly at jazz clubs in his hometown of London and throughout the UK.
Praise For…
---
"In Nightfly, Peter Jones has done an impeccable job illuminating one of music's most mercurial and mysterious figures. Exhaustive research, rich storytelling and keen observations make this a must-read not just for Fagen fans and Steely Dan devotees, but any music fans that relish compelling inside stories from the vinyl era. A comprehensive, critical biography that will also help you listen to classic albums like Pretzel Logic, Katy Lied, Aja and others with fresh new ears." —Chris Epting, author of James Dean Died Here and other books
"
Nightfly
is
a must-read for every Steely Dan fan
. In this book Peter Jones covers all aspects of Donald Fagen's career, both with his band Steely Dan and as a solo artist. I am amazed at the level of detail in the descriptions of the recording sessions and the analyses of the lyrics of the songs. There is no doubt Jones has put a lot of work into doing accurate research. Being an avid film noir buff myself, I can only agree with Peter's note, 'Steely Dan were the closest thing in rock music to film noir.'" —
Jay Graydon
, Grammy–award winning songwriter and musician
"Fagen fans will find this detailed account a worthy complement to the singer's own memoir,
Eminent Hipsters
."--
Publishers Weekly
"Jones is a fitting writer to discuss Steely Dan's and Fagen's work given his own musicianship and jazz knowledge, as so much of the group's song catalogue was founded upon jazz fundamentals. He clearly has a lot of passion for Fagen's work, and for Steely Dan's too, and presents a portrait of the band as we know it to be—consisting of Fagen and Becker who used a slew of talented LA session players to carry out their compositional will—no matter how many instrumentalists' egos they bruised and hundreds of studio hours they used in the process—and produced some of the most classic and unique records of the 1970s as a result." -
The Vinyl District
"Jones, a jazz singer himself, has stitched together a colourful story from scant first-hand material. He is at his sharpest appraising the albums and their legendarily lush production, informed by his musician's ear." -
All About Jazz
"In 
Nightfly
, Peter Jones has done a great service to fans and admirers of Steely Dan and Donald Fagen. And it's a thrill that they can buy." -
The Houston Press