Christmas delivery ends December 13th
We much appreciate how you've made UPB your holiday shopping destination.
Keep in mind, though, that it can take time for books to arrive at your desired shipping address. Sometimes titles have to cross the country from their warehouse location.
Therefore we recommend that you place your gift orders by December 13th to maximize delivery chances before December 25th.
Strategic Analysis for Healthcare Concepts and Practical Applications, Second Edition (Paperback)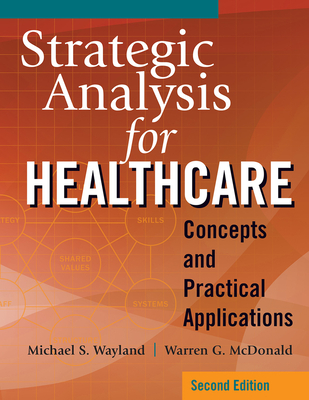 Description
---
Strategic planning encompasses much more than simply writing up a strategic plan and calling it a day. Successful strategic planning also requires developing the analytical skills leaders need to overcome current challenges while figuring out how to thrive well into the future. This book shows the way. Strategic Analysis for Healthcare: Concepts and Practical Applications presents a straightforward, step-by-step approach to strategic analysis and strategy development in healthcare. Through its clear explanations of theoretical concepts, supported by examples and applied exercises, the book provides readers with practical methods for developing healthcare strategy. This second edition includes the following new features and more: a brand-new chapter on population heath, an increasingly important approach to value-based care; three additional new chapters on strategic directional indicators, strategy selection and justification, and implementation plans and contingency planning; a substantially rewritten chapter on financial fit assessment and projection; and significant updates to many sections and topics, including financial analysis, competitive benchmarking, and organizational culture. With its short, engaging chapters, this workbook can be used as a stand-alone, applied-learning tool or in conjunction with an additional textbook. Perforated pages allow for easy use of the exercises as gradable assignments. The authors also mapped specific chapters from this book that can be taught alongside two other Health Administration Press titles, Strategic Healthcare Management, Planning and Execution, Second Edition, and Healthcare Strategic Planning, Fourth Edition. Leaders must be able to assess and strategically manage change in healthcare, as well as envision the future from a predictive, competitive, and visionary perspective. This book is designed to provide current and future leaders alike with the knowledge and guidance to do so.
About the Author
---
Warren G. McDonald, PhD, is professor and chair of the Department of Health Administration at Methodist University. He is also chief executive officer of McDonald and Associates LLC, a management consulting and leadership development firm. His academic background includes undergraduate degrees in opticianry and management, graduate degrees in healthcare management (Norwich University) and education (East Carolina University), and a doctor of philosophy degree in health sciences (Touro University), along with a number of professional certifications. Dr. McDonald is a member of the class of 2005 of the Institute for Management and Leadership in Higher Education at Harvard University and holds a graduate certificate in healthcare risk management from the University of Florida. He is a noted lecturer at conferences across the country and abroad. Michael S. Wayland is associate professor of management at Methodist University in Fayetteville, North Carolina, where he has taught business policy and strategy since 2007. Prior to joining Methodist, he worked in various management positions for Fortune 500 companies such as Chrysler Motors, PepsiCo, and General Electric. He received his undergraduate degree from Providence College and his master's degree from Wayne State University. He completed postgraduate work at George Washington University and is a member of the 2018 class of the Advanced Mediation Program at Harvard University Law School.