Virtue Bombs: How Hollywood Got Woke and Lost Its Soul (Paperback)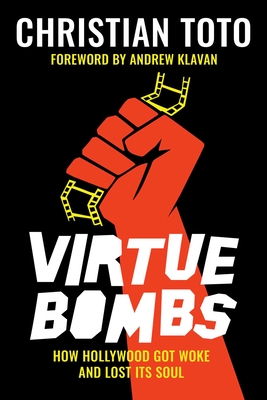 $18.00

Ships from Warehouse, Usually in 1-8 Days
Description
---
Inside Hollywood's Descent into Dreary, Dull Leftist Groupthink

Hollywood's Dream Factory is now a nightmare of woke restrictions, Identity Politics run amok, and freedom-snuffing rules and regulations. The Oscars are unwatchable, as are many films and television shows thanks to the woke revolution. Virtue Bombs breaks down where Hollywood went so wrong, illustrates the slow-motion disaster infiltrating the industry, and offers a glimmer of hope for a woke-free tomorrow. Award-winning film critic Christian Toto has all the receipts, showcasing Hollywood's virtue-signaling follies and how it could get much, much worse before it gets better.
About the Author
---
Christian Toto is an award-winning journalist and film critic who runs HollywoodinToto.com. He regularly contributes to The Daily Wire, RealClearInvestigations, TheHill.com, and JustTheNews.com. He belongs to the Critics Choice Association.
Praise For…
---
"Christian Toto's Virtue Bombs is informative and compelling, but most of all, it is a moral force against the forces of the left's Woke McCarthyism in favor of artistic freedom."
— John Nolte, Editor-at-Large, Breitbart News

"Christian Toto brings us a smart, insightful, full-throated and impassioned defense of freedom, art, and creativity against the modern stifling limitations of political correctness and the demand for agitprop. Hollywood's creative class will want to ignore or tune out this book, but they ought to read it, think about Christian's arguments and evidence, and go back to the drawing board, prioritizing the joy of a good story and characterization over checking the boxes of closed-minded, reflexive social media mobs and cultural critics."
— Jim Geraghty, senior political correspondent, National Review and author of the Dangerous Clique thriller series

"Christian Toto hits it out of the park with Virtue Bombs. Pop culture is wildly important in the fight for the nation's soul, and for far too long conservatives have been ignoring it or turning up their noses. Christian gets in the ring, daily and more effectively than anyone else, showing not only why it's so important for conservatives to engage in these battles, but how to win as well."
— Derek Hunter, talk show host, podcaster and Townhall columnist