The Creative Vegetable Gardener: 60 Ways to Cultivate Joy, Playfulness, and Beauty along with a Bounty of Food (Paperback)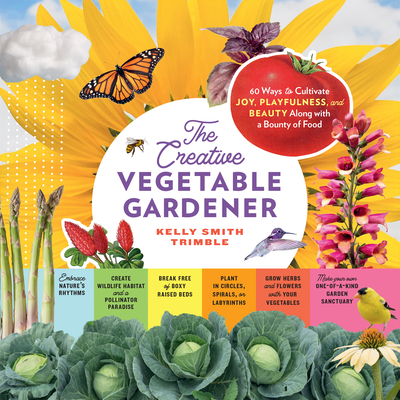 $19.99

Ships from Warehouse, Usually in 1-8 Days
Description
---
For decades, gardeners have approached vegetable gardening the same way: planting in square or rectangular beds or in straight rows, keeping vegetables separate from flowers, and definitely not mixing perennial plants with annual ones. According to these old rules, every insect must be killed, the garden must be tidy, and nothing should ever be allowed to go to seed. It's time to break the rules! Today's gardeners are re-envisioning the vegetable garden as a creative, playful space where the beds may be circles or spirals, beneficial insects are invited to the party, flowers for cutting grow right next to annual vegetables (which might be chosen for their curb appeal as much as their flavor), and a bit of "untidiness" simply creates a garden that more closely mimics the natural world.

With The Creative Vegetable Gardener, lifestyle editor and master gardener Kelly Smith Trimble encourages readers to widen their focus, be playful, and imagine a vegetable garden that reflects their own unique aesthetic and offers a meditative sanctuary as well as a source of fresh, homegrown food. From seed selection to garden layout and regenerative gardening practices, gardeners of all levels will find Smith Trimble's liberating advice a pathway to making the garden a place of nourishment for the soul and creative spirit, while also feeding the body.
About the Author
---
Kelly Smith Trimble is the author of Vegetable Gardening Wisdom. She has been a lifestyle editor for nearly 20 years, working for brands such as HGTV, Southern Living, Lowe's, Bonnie Plants, the National Park Foundation, and more. A certified Master Gardener, she grows vegetables, herbs, and flowers in her suburban backyard and loves cooking and preserving. She lives in Knoxville, Tennessee. Her web site is Kellysmithtrimble.com and her Instagram handle is @kellysmithtrimble.
Praise For…
---
"Wise, playful, and happy: An inspiring guide to creative and fruitful connection to the living world."—David George Haskell, biologist and author of The Forest Unseen and The Songs of Trees

"Kelly Smith Trimble's The Creative Vegetable Gardener isn't concerned so much with crop yields or pest control as it is with the sheer pleasure and wellness that gardening can bring. She encourages readers to garden for the mindfulness and surprise of it and counsels them to not get hung up on how many tomatoes they produce. Accessible for beginners but poised to shake up the thinking of the most seasoned dirt-gardener, Trimble's new book covers lots of ground."—BookPage, starred review

"Experienced vegetable gardeners, as well as those considering growing a garden for the first time, will relish this informative, charming book, enhanced by the many lovely color photographs of gardens and plants. It simply brims with creative ideas for planning and growing a thriving vegetable garden."—Library Journal

"This isn't a book about being perfect or putting pressure on yourself to always get things right. It's about creativity and joy — and about gardening as a craft. Just wonderful."—Susan Harlan, author of Decorating a Room of One's Own

"A treasure trove of ideas drawn from the wonder and magic found in natural spaces. The Creative Vegetable Gardener shows us that moving from a transactional relationship with vegetable growing, to a collaborative one, not only makes your garden more beautiful but also encourages biodiversity, resists pests and disease, produces more, and takes less effort."—Stephanie Rose, creator of Garden Therapy and author of The Regenerative Garden and Garden Alchemy

"In this heart-filled and ecologically minded book, Kelly Smith Trimble reminds us that growing a garden can be a deeply personal process that benefits you and the planet. Thoughtfully illustrated and beautifully photographed, Smith Trimble combines case studies, historical references, and entry points for approaching your garden as an integral piece to healthy living balanced with core knowledge for growing a thriving organic garden filled with biodiversity."—Emily Murphy, author of Grow Now and Grow What You Love

"The Creative Vegetable Gardener is like a little permission slip to not be so concerned about gardening "rules," but rather to garden in a way that feels authentic to you. It provides unique approaches to vegetable gardening and design that tie in with our evolving efforts to incorporate native plants, attract pollinators, support wildlife and more."—Tara Nolan, author of Gardening Your Front Yard and co-founder of SavvyGardening.com
UPB open Tuesday through Friday 1PM - 6PM, Saturday Noon - 5pm
2430 Bancroft Way
The store known for serving pure brain food has returned to our old digs for a few months to sell down inventory and bid fare thee well to our decades of in-store customers.
Days and hours subject to change.
Note: This site lists what's available for special order from Ingram Content Group.
Visit our pages at Alibris or Biblio to survey in-store stock priced above $19.95.
Discount applies only to in-store purchases.
Cafe Ohlone
Once hosted by UPB, Cafe Ohlone now serves guests outside the Hearst Museum of Anthropology on the Cal campus.
Savor the foods which characterized east bay cuisine for thousands of years, before European contact. Brought to you by Mak'amham.