Julia for Data Analysis (Paperback)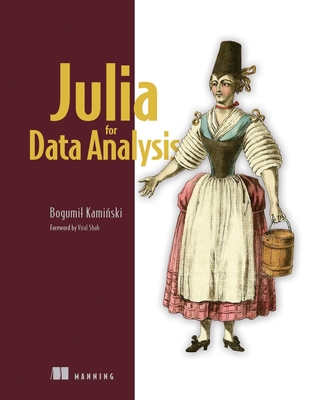 $65.99

Coming Soon - Available for Pre-Order Now
Description
---
Master core data analysis skills using Julia. Interesting hands-on projects guide you through time series data, predictive models, popularity ranking, and more.

Julia was designed for the unique needs of data scientists: it's expressive and easy-to-use whilst also delivering super fast code execution.

Julia for Data Analysis teaches you how to perform core data science tasks with this amazing language. It's written by Bogumil Kaminski, a top contributor to Julia, #1 Julia answerer on StackOverflow, and a lead developer of Julia's core data package DataFrames.jl. You'll learn how to write production-quality code in Julia, and utilize Julia's core features for data gathering, visualization, and working with data frames. Plus, the engaging hands-on projects get you into the action quickly.

Purchase of the print book includes a free eBook in PDF, Kindle, and ePub formats from Manning Publications.
About the Author
---
Bogumil Kaminski is one of the lead developers of DataFrames.jl—the core package for data manipulation in the Julia ecosystem. He has over 20 years of experience delivering data science projects for corporate customers. He has been teaching data science at the undergraduate and graduate levels for two decades.