Christmas delivery ends December 13th
We much appreciate how you've made UPB your holiday shopping destination.
Keep in mind, though, that it can take time for books to arrive at your desired shipping address. Sometimes titles have to cross the country from their warehouse location.
Therefore we recommend that you place your gift orders by December 13th to maximize delivery chances before December 25th.
The Duping of America: How we have been deceived into thinking abortion is acceptable, and the scientific, legal, moral and philosophical pro (Paperback)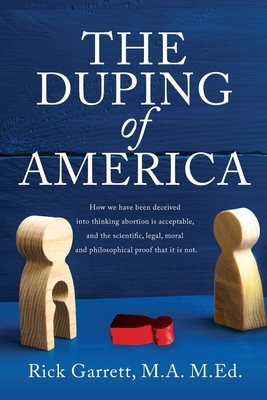 $17.49

Ships from Warehouse, Usually in 1-8 Days
Description
---
"The Duping of America" is the result of two years of research and thorough examination of multiple facets of the abortion debate, with more than 150 citations from medical, scientific, legal and ethics experts. The goal of the book is to educate readers about abortion and motivate them to take a stand to protect life based on objective evidence. It examines the social and cultural trends that led to the 1973 Roe v. Wade decision and what the effects have been, and reveals the inner workings of Planned Parenthood. Presenting the impact the media and Hollywood have had in promoting abortion and shaping public opinion, it equips the reader with facts to disprove the fourteen most common anti-life arguments. Different types of abortions and their legal implications are described based on former abortionists' testimony, and also considers who were among the 61,000,000 people we have aborted so far. The role of crisis pregnancy centers in helping women in problem pregnancies as well as serving post-abortive women and sources for healing are outlined. In addition, the book includes statistics and the politics of abortion, as well as the role played by religion. It concludes with a challenge to the reader to take a stand to defend unborn human life, and offers seven specific actions the pro-life advocate can take. As a lifelong pro-life advocate, Rick has always been interested in justice issues and probing the core of complicated, sometimes controversial subjects. "The Duping of America" is his first attempt at publishing a fact-based approach to examine such a topic. With two bachelor's degrees from Eastern Illinois University and two graduate degrees from UCLA, Rick was raised in Illinois, but has lived in Southern California for many years. He and his wife have two adult children and are expecting their third grandchild in 2020. His goal is to educate readers and listeners about abortion and motivate them to take a stand for life. He enjoys traveling, gardening, food, hiking, ocean kayaking, and touring visitors around southern California. He is available for speaking engagements and fundraisers for pro-life organizations and crisis pregnancy centers.