Before you buy…
We're glad to again serve customers, even though our former store front has closed and we operate this web store under reduced services.
Just scroll to the bottom to review limits placed on orders. .
American Cuisine: And How It Got This Way (Hardcover)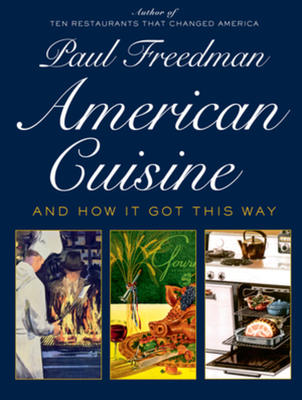 $39.95
Ships from Warehouse, Usually in 1-8 Days
Description
---
With an ambitious sweep over two hundred years, Paul Freedman's lavishly illustrated history shows that there actually is an American cuisine.
For centuries, skeptical foreigners—and even millions of Americans—have believed there was no such thing as American cuisine. In recent decades, hamburgers, hot dogs, and pizza have been thought to define the nation's palate. Not so, says food historian Paul Freedman, who demonstrates that there is an exuberant and diverse, if not always coherent, American cuisine that reflects the history of the nation itself.
Combining historical rigor and culinary passion, Freedman underscores three recurrent themes—regionality, standardization, and variety—that shape a completely novel history of the United States.
From the colonial period until after the Civil War, there was a patchwork of regional cooking styles that produced local standouts, such as gumbo from southern Louisiana, or clam chowder from New England. Later, this kind of regional identity was manipulated for historical effect, as in Southern cookbooks that mythologized gracious "plantation hospitality," rendering invisible the African Americans who originated much of the region's food.
As the industrial revolution produced rapid changes in every sphere of life, the American palate dramatically shifted from local to processed. A new urban class clamored for convenient, modern meals and the freshness of regional cuisine disappeared, replaced by packaged and standardized products—such as canned peas, baloney, sliced white bread, and jarred baby food.
By the early twentieth century, the era of homogenized American food was in full swing. Bolstered by nutrition "experts," marketing consultants, and advertising executives, food companies convinced consumers that industrial food tasted fine and, more importantly, was convenient and nutritious. No group was more susceptible to the blandishments of advertisers than women, who were made feel that their husbands might stray if not satisfied with the meals provided at home. On the other hand, men wanted women to be svelte, sporty companions, not kitchen drudges. The solution companies offered was time-saving recipes using modern processed helpers. Men supposedly liked hearty food, while women were portrayed as fond of fussy, "dainty," colorful, but tasteless dishes—tuna salad sandwiches, multicolored Jell-O, or artificial crab toppings.
The 1970s saw the zenith of processed-food hegemony, but also the beginning of a food revolution in California. What became known as New American cuisine rejected the blandness of standardized food in favor of the actual taste and pleasure that seasonal, locally grown products provided. The result was a farm-to-table trend that continues to dominate.
"A book to be savored" (Stephen Aron), American Cuisine is also a repository of anecdotes that will delight food lovers: how dry cereal was created by William Kellogg for people with digestive and low-energy problems; that chicken Parmesan, the beloved Italian favorite, is actually an American invention; and that Florida Key lime pie goes back only to the 1940s and was based on a recipe developed by Borden's condensed milk. More emphatically, Freedman shows that American cuisine would be nowhere without the constant influx of immigrants, who have popularized everything from tacos to sushi rolls.
"Impeccably researched, intellectually satisfying, and hugely readable" (Simon Majumdar), American Cuisine is a landmark work that sheds astonishing light on a history most of us thought we never had.
About the Author
---
Paul Freedman is a history professor at Yale University. The author of the highly acclaimed Ten Restaurants That Changed America, Freedman lives in Pelham, New York.
Praise For…
---
In American Cuisine: And How It Got This Way, the Yale University history professor and culinary scholar eschews the banal, dish-centric narrative of countless similar titles to propose a grand theory of the American appetite.

— Rien Fertel, Wall Street Journal

In American Cuisine: And How It Got This Way, food historian Paul Freedman embarks on an ambitious exploration of a seemingly impossible question: What is American food? Combing through 200 years of cookbooks and archives, Freedman charts a captivating history of our country told through the meals we make.

— Drew Tewksbury, Los Angeles Times

[A] significant, thoroughly researched survey of food and cooking in the U.S.... Both serious researchers and armchair readers will find education and amusement here.
— Booklist [starred review]

Well-researched.... History buffs will dig into this astute culinary narrative.

A sweeping, thoroughly researched social and cultural history of America through its changing food habits and practices.... Freedman also offers entertaining profiles of many notable chefs, including Alice Waters, Thomas Keller, and René Redzepi, whose influences have reformed how many Americans eat. A spirited, abundantly illustrated food history.

[An] astute, well-researched exploration of American cuisine.... Purchase for medium and large collections where books about food history are in demand.
— Emily Patti

Although it is not easy to define, Yes! there is a genuine American Cuisine. In this essential book, Paul Freedman leads us from the food of colonial times to processed industrial food, to ethnic food, to the farm-to-table revolution of the 70s. American Cuisine is a brilliant synthesis which organizes the vast, eclectic, mixed American cooking into a comprehensive, coherent, credible and unified entity.

— Jacques Pépin

Through my fifty years as an Italian chef in America I have followed the evolution of American cuisine and have always wanted to know ever more about its origin, flavors and recipes. My dear friend and Yale professor, Paul Freedman has fulfilled my quest to know more. This is a brilliant book—extensive and detailed—with in-depth research about the chronological journey of American cuisine from the pioneers to the present.
— Lidia Bastianich, author of My American Dream: A Life of Love, Family, and Food

Whether it's hasty pudding in 18th century Connecticut, or gluten-free waffles in today's Brooklyn, Americans have always liked their daily bread served with ample portions of sentiment, habit, folklore, and wishful thinking. Only a scholar who's also an avid raconteur could begin to do justice to this nation's complex, frequently unnerving relationship with food, which is where Paul Freedman comes in. Drawing on copious research -- and encouraged, clearly, by an excellent appetite -- he has untangled the messy strands of nostalgia and speculation that spill across culinary history like a vast helping of spaghetti and come up with a wonderfully engaging study of Americans at table. Anyone who wants to make sense of our edible past should start right here.
— Laura Shapiro, author of What She Ate

In American Cuisine, Paul Freedman, an eminent historian of medieval Europe, turns once more to "modern" history and to the United States. A splendid follow up to his Ten Restaurants That Changed America, American Cuisine affirms that we are what we eat (and were what we ate). More than just an excavation of what was and is American cuisine, Freedman's book is a revelation about what was and is American. Plus, it's a great read. Filled with forgotten foodways, recovered recipes, and fresh treats, American Cuisine is a book to be savored.

— Stephen Aron, author of The American West: A Very Short Introduction

In American Cuisine, Paul Freedman embarks on an epic quest, to locate the roots of American foodways and follow changing tastes through the decades, a search that takes him straight to the heart of American identity. It is an enormous, endlessly fascinating subject, and Freedman makes a wonderful tour guide, scholarly and wry. He travels the nation's highways and byways in search of regional styles, traces the rise of industrial food culture, and explores the California food revolution of the 1970s, a springboard to today's world of farm-to-table cuisine, organic foods, and restless experimentation.

— William Grimes, former New York Times restaurant critic

Impeccably researched, Paul Freedman's American Cuisine is both intellectually satisfying and hugely readable. However, what impresses most of all is Freedman's palpable and genuine affection not only for American food, but also the people who made and make it happen. At the end of this book, you will be convinced that not only is American cuisine a thing, but that it is a very good thing, and deserves to take its place among the great cuisines on earth.

— Simon Majumdar, author, broadcaster and host of the "Eat My Globe" food history podcast

Shattering holy ideas about our national fare, Paul Freedman's American Cuisine shows that we have not yet fully emerged from the unhealthy weight of food industrialization, brutal marketing lies, and fake "traditions" meant to divide us. Hearty food for thought.

— Allen Salkin, author of From Scratch: Inside the Food Network

Given the old adage 'you are what you eat,' American Cuisine, with thoughtful assessments combined with marvelous illustrations, is a mirror reflecting back, helping explain the current abundant yet problematic landscape of American food.

— Amy Bentley, Professor of Food Studies at NYU
STOREFRONT CLOSED FOR REGULAR BUSINESS
Nevertheless, UPB provides ship-to-home service.
Unless and until we move our on-line fulfillment team to different premises, everything you purchase from us ships from warehouses outside of Berkeley.
Much of what we used to carry on store shelves is available, except for very expensive books, used books, and titles fallen between printings.
Certain limitations apply:
Only orders that subtotal under $75.00 will ship.
Thus, we may remove items from a multi-book order and ask you to resubmit them on a separate order.
Sometimes we may have to split an order because books are stocked at different warehouses. Sorry, it's impossible to tell in advance when this may happen.
Credit card orders only
Many high demand titles ship fairly quickly. Most other titles travel from back east, adding 2 to 5 days to delivery
Although we love you in Canada, Latin America, and else where, U.S. orders only.
Certain publishers give us low merchant discounts on certain titles, sometimes no discount at all. To be honest, we've had to raise prices on these, ranging from 5% to 30% above list.
You can also purchase eBooks and audio books through us. Distributed by Hummingbird, they include publications from the major trade publishers. Just access the menu link or the sidebar image above.
We greatly appreciate your support of the store with your book orders. Need a book without our current shopping restrictions? We recommend Bookshop. View our recommendations on Bookshop, then search for whatever book you'd like.
---
Should you have questions, email us via our contact form. Since none of are keeping regular hours, it may take a day to get back with you.
The Cafe Ohlone has closed for the duration of the epidemic. They will probably reopen at a different location when they do.
From 1974, University Press Books has stoked the blaze of well over ten thousand minds on fire, carrying new scholarship published by the great university presses in the English-speaking world.
For more than 40 years, UPB operated out of our address at 2430 Bancroft Way in Berkeley (at present still our mailing address). We're now operating on line and when possible at various pop up locations. Sign up to our mailing list for word on dates and locations of these.,/p>
Order from us. Let well-wrought words churn and burn within.