Christmas delivery ends December 13th
We much appreciate how you've made UPB your holiday shopping destination.
Keep in mind, though, that it can take time for books to arrive at your desired shipping address. Sometimes titles have to cross the country from their warehouse location.
Therefore we recommend that you place your gift orders by December 13th to maximize delivery chances before December 25th.
The Benghazi Report: Review of the Terrorist Attacks on U.S. Facilities in Benghazi, Libya, September 11-12, 2012 (Hardcover)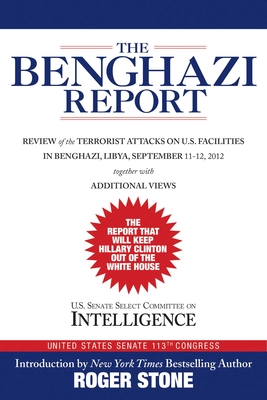 Description
---
On September 11, 2012, a squad of armed militants in Libya attacked the American diplomatic mission at Benghazi, killing U.S. ambassador J. Christopher Stevens and three other American diplomats. Although the vicious attack was initially reported as a protest against an anti-Islamic video, later evidence suggested that it may have been a coordinated terrorist attack—perhaps even tied to al-Qaeda. This begged the question: Did the White House brush off a terrorist attack in order to save face? Since then, the incident has developed into a full-blown partisan debate over whether the government was involved in a cover-up or not, and worse, whether the attack could have been prevented.

The Benghazi Report is the Senate committee's findings—the culmination of over a year's worth of investigations and interviews, presented in full. Readers of The Benghazi Report will find many of the revelations shocking. Did the White House manipulate the facts? Why was the disclosure of information so unnecessarily slow? What is the connection between the mysterious deaths of fifteen Libyans who had been assisting the FBI's investigation and a trail of incompetence left by foreign governments unwilling cooperate? Were the attacks were preventable?

Featuring an introduction by bestselling author Roger Stone, this report represents a landmark in the ongoing struggle for more transparency from the U.S. government.
About the Author
---
Roger Stone is the author of the New York Times bestseller The Man Who Killed Kennedy. He is a legendary American political consultant and strategist who played a key role in the election of Republican presidents Richard Nixon, Ronald Reagan, and George H. W. Bush. He was also instrumental in the 2000 Florida recount responsible for the election of George W. Bush.

The U.S. Senate Select Committee on Intelligence is a U.S. government committee whose purpose is to assess the budget and research of intelligence agencies such as the Central Intelligence Agency, Defense Intelligence Agency, and National Security Agency.