Rough Draft Math: Rough Draft Math: Revising to Learn (Paperback)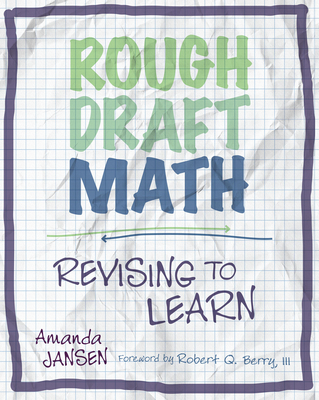 $45.93

Ships from Warehouse, Usually in 1-8 Days
Description
---
Many students, especially as they get older, only share their thinking in math class when they're sure they have the right answer. This means that some students hardly talk at all. Yet, talking and writing about in-process and unfinished ideas are vital to learning mathematics. How can we meet this challenge? Amanda (Mandy) Jansen and her collaborating teachers have developed a breakthrough approach: expand the idea of 'rough drafts' to the mathematics classroom.
In
Rough Draft Math
, Mandy shares the power of infusing math class with the spirit of revision so that students feel comfortable thinking aloud as they talk to learn through problem-solving rather than talking only to perform right answers. In the process, a class of students becomes a community of mathematical thinkers, and teachers gain access into their students' ideas and understandings.
Inside you'll find the following:
an exploration of what the idea of revision could mean for math teaching and learning
classroom vignettes to see rough draft math in action
specific teaching techniques to encourage and practice rough draft thinking
voices of teachers and students in rough draft classrooms
Mandy's reflections about her own teaching as a work in progress
In
Rough Draft Math
, Mandy shows how to create a classroom culture in which your students will feel more comfortable expressing their partial understandings and in-process thinking, and then continually revising that thinking as they build deep, conceptual understanding of mathematics.  
About the Author
---
Amanda (Mandy) Jansen began her career in mathematics education as a junior high mathematics teacher (grades 7-9) in Mesa, Arizona. Her undergraduate degree is in mathematics, and it is from the University of Arizona in Tucson. She minored in English education. She went on to earn her Ph.D. in educational psychology at Michigan State University in East Lansing. Mandy currently works as a Professor in the School of Education at the University of Delaware where she also has a joint appointment in the Department of Mathematical Sciences. She teaches future elementary and middle school teachers to develop their mathematics knowledge for teaching and their pedagogical practices. Her research addresses adolescent students' motivation and engagement in mathematics classrooms, as well as teachers' efforts to engage students in learning mathematics.