Seriously Good Salads: Creative Flavor Combinations for Nutritious, Satisfying Meals (Paperback)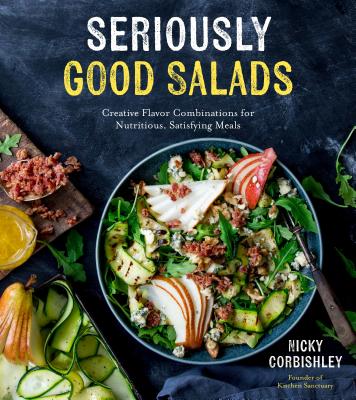 Description
---
Say "Goodbye" to Sad Salads

Gone are the days when salads were disappointing meals made with wilted lettuce and a few standard veggies. In Seriously Good Salads, Nicky Corbishley shares 75 of her favorite salads, all packed with fresh flavor, loaded with exciting toppings and covered with delectable dressings.

Salad lovers looking for some extra protein to accompany their veggies will drool over Chipotle Chicken Cobb Salad, Salmon Sushi Salad and Chorizo and Lima Bean Salad. Other favorites, like Cheddar, Apple and Walnut Salad, Thai-Style Slaw with Peanut Dressing and Moroccan Couscous Salad with Orange and Apricot, are piled high with yummy cheeses, grains, nuts and more to keep you feeling full and happy. Nicky even includes fantastic fruit-based salads, like Orange Salad with Pistachios and Pomegranate, and all the tasty salad dressing recipes you could possibly want.

With Nicky's innovative flavor combinations and unique ingredients, it's easier than ever to turn a boring side salad into a showstopper of a meal the whole family will enjoy.
About the Author
---
Nicky Corbishley is the founder of Kitchen Sanctuary. She is also a freelance writer and photographer whose work has been featured in County Living, Buzzfeed, Delish and Huffpost Tasting, among others. She lives in Cheshire, England.
Praise For…
---
"Nicky brings so many delicious, global flavors to the table here. Her vibrant recipes really pack a punch."
—Ren Behan, food writer and author of Wild Honey and Rye

"Get ready to forget every preconception you may have had about 'boring' salads. Every recipe is packed with explosive flavors and textures. I can't say I've ever craved a salad...until now."
—Tom Cockerill, chef and award-winning restaurateur

"Nicky's recipes never disappoint! She is a master food curator with the distinct ability to pair food items together for fantastic bursts of flavor in every bite."
—Tracie Zorzi, publisher of Beautiful Home & Life Magazine

"This book will inspire you to eat well and live well."
— Cyrus Todiwala, chef and award-winning restaurateur