Destiny Betrayed: JFK, Cuba, and the Garrison Case (Paperback)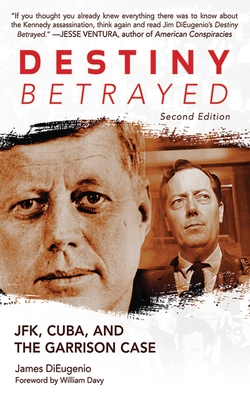 Description
---
Thrilling and informative guide to the life and death of JFK
Ideal for fans of In Cold Blood and Oliver Stone's JFK
Revised and expanded version of DiEugenio's original book 
Twenty years ago, before the ages of Obama and Trump, James DiEugenio wrote the first edition of
Destiny Betrayed
. In this second edition of
Destiny Betrayed
, he returns to familiar topics and introduces new information. What was the truth, and what were the lies? What were the inside politics of Kennedy's America? This book is an investigative look at these questions and more. The author focuses equally on Kennedy and Garrison, providing a unique insight into the Garrison inquiry. 
DiEugenio updates all of the topics that he introduced in 1992 with the first edition of
Destiny Betrayed
. He has used the declassification process of the Assassination Records Review Board (ARRB) to gain the most current and accurate information on subjects including Clay Shaw and the Garrison investigation; US-Cuban policy from 1957 to 1963; the newly exposed mistaken beliefs of the Warren Commission; Kennedy's challenge to the Cold War consensus in 1961 and where he came up with that challenge; and more. The author primarily emphasizes the New Orleans aspects of the Kennedy murder investigation, the Garrison inquiry, and the new and secret data that strengthens Garrison's case.