Landesque Capital: The Historical Ecology of Enduring Landscape Modifications (New Frontiers in Historical Ecology #5) (Hardcover)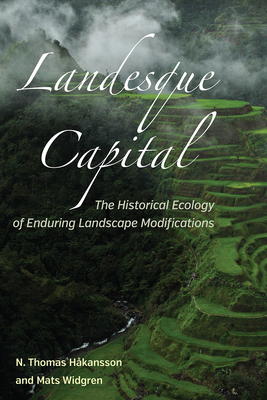 Description
---
This book is the first comprehensive, global treatment of landesque capital, a widespread concept used to understand anthropogenic landscapes that serve important economic, social, and ritual purposes. Spanning the disciplines of anthropology, human ecology, geography, archaeology, and history, chapters combine theoretical rigor with in-depth empirical studies of major landscape modifications from ancient to contemporary times. They assess not only degradation but also the social, political, and economic institutions and contexts that make sustainability possible. Offering tightly edited, original contributions from leading scholars, this book will have a lasting influence on the study long-term human-environment relations in the human and natural sciences.
About the Author
---
N. Thomas Håkansson is Professor of Rural Development at the Swedish University of Agricultural Sciences. He has done extensive field and archival research on the emergence and maintenance of irrigation and permanent agriculture in pre-colonial and colonial Kenya and Tanzania.

Mats Widgren is Professor of Geography at Stockholm University. He has researched landscape history from a social science perspective in Sweden, Botswana, Kenya, South Africa, and in a global context. He is co-author of Islands of Intensive Agriculture (Ohio University Press 2004)
Praise For…
---
"Håkansson and Widgren consider well landesque capital, an underused concept critical for scholars studying the political economy and ecology of traditional societies. They show how an approach deriving broadly from landesque capital is vital to issues of sustainability and control."

—Dr. Timothy Earle, Northwestern University

"Landesque Capital is a delightful, diverse and invaluable book offering a detailed analysis of investment by rural people in their land to meet economic, cultural and spiritual needs.  The book tests and demonstrates the value of the concept of landesque capital in theory and in practice, through case studies of landscape and agricultural history from Sweden to Solomon Islands, via Africa, Asia and Latin America. This is scholarship of a high order: theoretically sharp, empirically deep and highly relevant in a world searching for sustainability."

—Bill Adams, University of Cambridge

"This book, representing fresh work from several academic disciplines, on case studies from several continents, brings readers up to date with the current debates on the concept of 'landesque capital.'  It shows convincingly how the features of an agrarian landscape — terraces, irrigation ditches, and so forth — are embedded both in social systems and in nature simultaneously.  The book realizes the potential of historical ecology to illuminate both past and present, both locally and globally."

—J.R. McNeill, Georgetown University

"If a diverse group of scholars representing a variety of allied disciplines and working in assorted regions and time periods finds it a (productive and stimulating) challenge to unify their approaches to enduring landscape modifications, this is testament to the difficulty of simultaneously grappling with the conceptual and methodological challenges posed by palimpsest landscapes; the interplay of practice, process, and product; and an insidious but useful Cartesian nature-culture separation. The editors and contributors are to be commended for tackling this knotty problem."

—Journal of Anthropological Research

"Landesque Capital: The Historical Ecology of Enduring Landscape Modifications is a timely and important edited volume investigating the theoretical concept of landesque capital while relying on a global cross-cultural set of empirical studies. … The volume provides a much needed bottom-up global perspective on sustainable food production systems as described by editors N. Thomas Hakansson and Mats Widgren. While this book is not about sustainability, the contributions are central to any discussion of global sustainability because they shine critical light on regional landscape perspectives, culture, and land use."

—Timothy Murtha, Environment and Society
UPB open Tuesday through Friday 1PM - 6PM, Saturday Noon - 5pm
2430 Bancroft Way
The store known for serving pure brain food has returned to our old digs for a few months to sell down inventory and bid fare thee well to our decades of in-store customers.
Days and hours subject to change.
Note: This site lists what's available for special order from Ingram Content Group.
Visit our pages at Alibris or Biblio to survey in-store stock priced above $19.95.
Discount applies only to in-store purchases.
Cafe Ohlone
Once hosted by UPB, Cafe Ohlone now serves guests outside the Hearst Museum of Anthropology on the Cal campus.
Savor the foods which characterized east bay cuisine for thousands of years, before European contact. Brought to you by Mak'amham.