Christmas delivery ends December 13th
We much appreciate how you've made UPB your holiday shopping destination.
Keep in mind, though, that it can take time for books to arrive at your desired shipping address. Sometimes titles have to cross the country from their warehouse location.
Therefore we recommend that you place your gift orders by December 13th to maximize delivery chances before December 25th.
Religion, Conflict, and Democracy in Modern Africa: The Role of Civil Society in Political Engagement (Princeton Theological Monograph #167) (Paperback)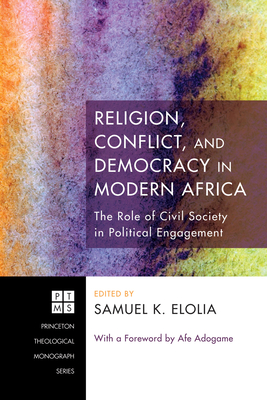 Description
---
Synopsis: Spanning various regions of Sub-Saharan Africa, the authors of this volume come together to explore the complex relationship between religion and democracy in contemporary Africa. As a result of the end of the Cold War and the fall of the Soviet Union, many African countries have come to the realization, however partial, that political and social change is inevitable in spite of government heavy-handedness and threats. It has also become evident that no political system that refuses to permit freedom of political expression and alternative systems of governance could continue to be sustained. It is in precisely this political climate that religious institutions have collaborated with other elements of civil society to call for political reforms, with the church often becoming the prominent voice against oppressive governments in countries such as Kenya and South Africa. It is the purpose of this book to assess how religion shapes political issues and to what extent religious forces influence the civil society. By acknowledging the role of the civil society, the essays recognize the resilience that comes out of Africa even when the sociopolitical situation seems unbearable. Endorsers: "This book is unprecedented and a major intellectual contribution. No one, in any academic field or government position, can be considered serious about Africa today if they have not read this book. This is one we have been waiting for " --Dwight N. Hopkins Professor of Theology University of Chicago "This book is an effort by a series of scholars in religious studies to explore the role that religion has played, plays today, and can play in Africa. Though different studies touch on the positive and negative roles religion has played, the most important theme is a belief that religious communities are a major part of civil society and that religion can play an important role in dealing with many problems faced by African states." --Martin Klein University of Toronto Editor Biography: Samuel K. Elolia is a Professor of Christian Doctrine and World Christianity at Emmanuel School of Religion in Johnson City, Tennessee.