Uprooted: A Gardener Reflects on Beginning Again (Hardcover)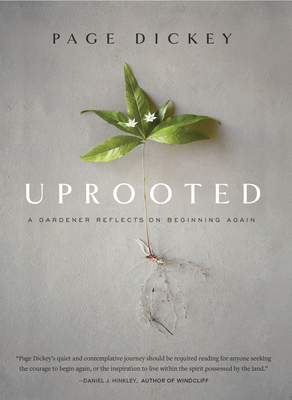 $30.00

Ships from Warehouse, Usually in 1-8 Days
Description
---
"Uprooted reveals how a late-life uprooting changed Dickey as a gardener." —The Wall Street Journal

When Page Dickey moved away from her celebrated garden at Duck Hill, she left a landscape she had spent thirty-four years making, nurturing, and loving. She found her next chapter in northwestern Connecticut, on 17 acres of rolling fields and woodland around a former Methodist church. In Uprooted, Dickey reflects on this transition and on what it means for a gardener to start again.

In these pages, fol­low her journey: searching for a new home, discovering the ins and outs of the landscape surround­ing her new garden, establishing the garden, and learning how to be a different kind of gardener. The sur­prise at the heart of the book? Although Dickey was sad to leave her beloved garden, she found herself thrilled to begin a new garden in a wilder, larger landscape.
 
Written with humor and elegance, Uprooted is an endearing story about transitions—and the satisfaction and joy that new horizons can bring.
About the Author
---
Page Dickey is a garden designer and author of multiple books, including Gardens in the Spirit of Place, Inside Out, and Embroidered Ground. She lectures around the country about plants and garden design, and has written articles for House and Garden, Architectural Digest, Horticulture, Fine Gardening, and Garden Design. Her former garden, Duck Hill, has been featured in the New York Times, Elle Décor, and Vogue. She now lives and gardens in Falls Village, Connecticut, on 17 acres with a view of the Berkshire hills.
Praise For…
---
"Page Dickey's quiet and contemplative journey from her iconic first garden, Duck Hill, to create something entirely new at Church House should be required reading for anyone seeking the courage to begin again or the inspiration to live within the spirit possessed by the land where one lives." —Daniel J. Hinkley, gardener, plant explorer, and author of Windcliff
 
"An unfeigned account of a gardener's transition in life and place. Wonderfully written, richly illustrated, grounded in personal, horticultural and cultural history. If you are wondering if classical horticulture and native plant functionality can coexist, this book is for you." —Douglas W. Tallamy, author of Nature's Best Hope and Bringing Nature Home
 
"In Uprooted, one of America's most engaging garden writers discovers the role of the natural world—the soils, the plants, and the critters with which she shares her piece of New England paradise—in creating a garden that suits its place—and befits our time." —Richard G. Turner, Jr., editor emeritus, Pacific Horticulture
 
"Practical and poetic, this paean to nature is an epicurean adventure of a horticultural life well-lived." —Tania Compton, garden designer and author of The Private Gardens of England

"Part memoir, part garden design, part future plans for a life continuing on in a new home, this is more than a book on planting or revamping a garden… Even nonhorticultural patrons will find this a gently enthralling read, and will finish with a renewed sense of wonder at the natural world and gratitude to Dickey for having written about it once more." —Library Journal

"Richly complemented with photographs by Ngoc Minh Ngo and Marion Brenner, the rewards of this book are in the reading." —The Council on Botanical and Horticultural Libraries

"I encourage everyone to read this heart-lifting book."—Garden Design Online

"This wonderful book is a must for anyone who contemplates a change in their life. It is not only about creating a new garden but leaving a beloved house to start again. It is so heartwarming and special." —Bunny Williams

"A photo-rich book… the message here is to let wild enough alone and let Mother Nature control the big picture." —The News Tribune

"This is a book about transitions and what happens when you leave a beloved garden and embark, at the age of 74, on making a new one… Dickey has an intimate, almost mesmerising, writing style and this book is full of observations on life, plants and starting anew." —The Times

"If you're looking for a peaceful ramble via Dickey's observant gaze and deep love of nature… you'll likely enjoy this book." —Digging

"A beautifully written story." —The Oregonian

"A beautifully written memoir about starting over later in life that also offers plenty of insight for seasoned gardeners to apply in their own yards."—The Orange County Register

"Dickey's beautiful descriptions of discovering nature's seasonal surprises hidden in her new woods, wetlands, and pastures will provide lovely images to brighten gray winter days." —Triangle Gardener

"A beautifully written memoir about starting over later in life that also offers plenty of insight for seasoned gardeners to apply in their own yards." —Mercury News

"Illustrated by color photographs by Ngoc Minh Ngo and Marion Brenner, Uprooted reveals how a late-life uprooting changed Dickey as a gardener." —The Wall Street Journal