Search for Spock : A Star Trek Book of Exploration: A Highly Illogical Search and Find Parody (Hardcover)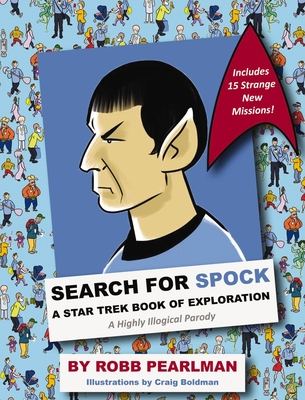 Description
---
It's Where's Waldo? for Trekkies––the activity book you didn't know you needed! Dr. Spock is missing! Travel through space and time to search and find Dr. Spock among more than 100 other characters, aliens, villains, and crew members.

This hidden intergalactic adventure is a perfect challenging and fun activity book for kids, families, and Star Trek fans of all ages, from the mind of New York Times bestselling pop culturalist Robb Pearlman. Search all floors, planetary settings, and plots explored by the brave Enterprise fleet members for a certain evasive-yet-adored Vulcan in the entertaining and endearing Search for Spock. The colorful artwork mirrors the famously popular Where's Waldo? activity book series' charm and simplicity.

"The pages are colorful, vibrant, and joyful… Search for Spock was a lot of fun. If you have kids, you'll enjoy working together to try and find Mr. Spock, and if you're an adult, it's fun to find all of the references to various Star Trek episodes."—Trek Core
About the Author
---
Robb Pearlman is the Associate Publisher of Universe Books, Calendars, and Licensing at Rizzoli International Publications. He is the author of Groundhog's Day (Bloomsbury, 2015), Fun with Kirk and Spock (Cider Mill Press, 2014), 101 Ways to Use a Unicorn (Universe, 2014), 101 Ways to Kill a Zombie (Universe, 2013), Nerd Haiku (Lyons, 2012), Spoiler Alert (Lyons, 2011), Disney's Alice in Wonderland and Disney's Winnie the Pooh (Universe, 2012), The Q Guide to Sex and the City (Alyson, 2008), Passover is Here! (Little Simon, 2005), and Raggedy Ann and Andy: Leaf Dance (Little Simon, 2001). An editor of pop culture titles including Zombies on Film: The Definitive Story of Undead Cinema, Stuck on Star Trek, and The Princess Bride: A Celebration, he directs a calendar program that includes major licenses asStar Trek, Game of Thrones, Downton Abbey, True Blood, Bob's Burgers, Scandal, and Family Guy. He has edited monographs of the work and lives of award winning animators Bill Plympton and Ralph Bakshi, the movie tie-in books toBurlesque and Amelia, The Joker, the first book soley devoted to the DC Comics supervillain, as well as children's books including M. Sasek's This is... series, Grandma Moses's The Night Before Christmas, John Patrick Byrne's Donald and Benoit, and A Poem as Big as New York City, illustrated by Masha D'yans. Robb has had successful events and signings at San Diego and New York ComicCons, bookstores and comic book retailers in Los Angeles, New York, and New Jersey. He has had an essay and haikus featured on HuffingtonPost.com, has performed at the Nerdnite Nerdtacular, and has been featured on several pop culture blogs and SiriusXM radio shows.
UPB open Tuesday through Friday 1PM - 6PM, Saturday Noon - 5pm
2430 Bancroft Way
The store known for serving pure brain food has returned to our old digs for a few months to sell down inventory and bid fare thee well to our decades of in-store customers.
Days and hours subject to change.
Note: This site lists what's available for special order from Ingram Content Group.
Visit our pages at Alibris or Biblio to survey in-store stock priced above $19.95.
Discount applies only to in-store purchases.
Cafe Ohlone
Once hosted by UPB, Cafe Ohlone now serves guests outside the Hearst Museum of Anthropology on the Cal campus.
Savor the foods which characterized east bay cuisine for thousands of years, before European contact. Brought to you by Mak'amham.