The Complete Guide to Pruning Trees and Bushes: Everything You Need to Know Explained Simply (Back to Basics Growing) (Paperback)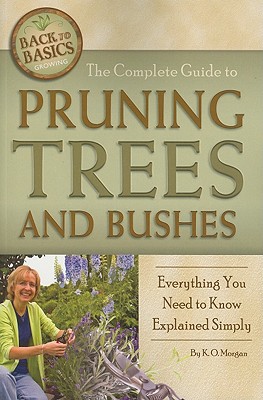 Description
---
According to the Virginia Cooperative Extension, operated by Virginia Tech and Virginia State University, there are more than 60 different kinds of shrubs in North America with varying pruning requirements, timelines, and necessities. This massive variety makes it so that anyone interested in pruning needs to be very well educated in how the process is completed, what it needed, what should be avoided, and most of all, when to plant, prune, and provide maintenance to your shrubs.
This book walks every shrub enthusiast through the surprisingly complex process of pruning from the first seed in the ground to the annual progression of pruning steps that must be done in the right order to maximize the health of your shrubs. You will learn what the top reasons for taking up pruning are followed by what equipment is needed for pruning from start to finish. You will learn everything you need to know about the 10 most common pruning methods and a number of more methods that are nearly as common but equally as useful.
You will learn how to apply these techniques to ornamental trees and shrubs, shade trees, pruning evergreens, pruning hedges, artistic pruning, pruning fruit trees, pruning small trees, pruning nut trees, pruning vines and ground covers, and finally pruning houseplants and bonsai plants. You will benefit from the advice gathered from interviews with top experts in the field of pruning and gardening and their insights on how pruning should be completed for reach type of plant. For anyone who interested in pruning of their plants either inside or outside, this guide will provide everything you need.
Atlantic Publishing is a small, independent publishing company based in Ocala, Florida. Founded over twenty years ago in the company president's garage, Atlantic Publishing has grown to become a renowned resource for non-fiction books. Today, over 450 titles are in print covering subjects such as small business, healthy living, management, finance, careers, and real estate. Atlantic Publishing prides itself on producing award winning, high-quality manuals that give readers up-to-date, pertinent information, real-world examples, and case studies with expert advice. Every book has resources, contact information, and web sites of the products or companies discussed.

About the Author
---
K.O. Morgan is the author of The Complete Guide to Pruning Trees and Bushes and the Kindle e-book, Living Smart: Healing Foods. She is also a writer of magazine articles, astrology mini mags and calendars, research volumes, and marketing and advertising copy. She has been published in Produce Business, Deli Business, American Food & Ag Exporter, and Living in Hampton Roads magazines, and has written three published mini books titled Living Smart: Healing Foods, Living Smart: Boosting Brain Power, and 1001 Internet Freebies. K.O. Morgan resides with her husband, daughter, three cats, and a dog in historic Hampton Roads, Virginia. Find her online at www.kimomorgan.com."