Code Check Complete 2nd Edition: An Illustrated Guide to the Building, Plumbing, Mechanical, and Electrical Codes (Code Check Complete: An Illustrated Guide to Building) (Spiral)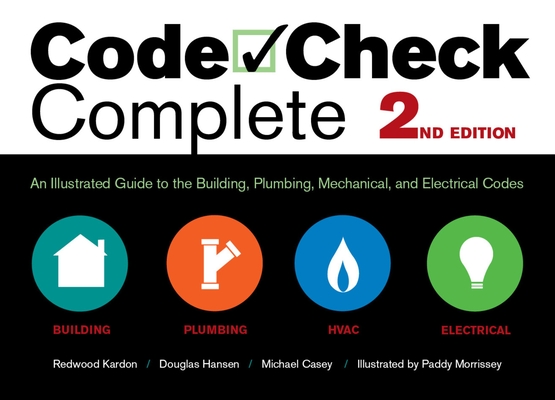 Description
---
Code Check Complete, 2nd Editioncombines the full versions of the individual Code Checks (Building, Electrical, Plumbing, Mechanical) in a complete, all-in-one guide to the most commonly cited code violations encountered by building inspectors. Using clear language to ensure compliance with codes at each stage of construction, this edition reflects the most up-to-date changes in the building, plumbing, mechanical, and electrical codes. Tables and illustrations help to clarify the complex rules and numerous changes in the latest edition of the codes. Specific code changes are highlighted throughout the text and summarized at the end of the book.
The Code Check series is one of Taunton's most successful book lines, selling over 1,250,000 copies; the series is endorsed by the International Code Council (ICC). Designed to work hard for the user, Code Check Complete has a tough outer case and lay-flat spiral binding perfectly suited to the job site or the desktop. Detailed cross-references and 400 drawings address all common code questions with up-to-date answers, ensuring that all jobs meet the highest safety standards while drastically reducing code violation call-backs.
About the Author
---
Redwood Kardon, who devised and wrote the first Code Check, is a former electrician and building inspector for the city of Oakland, CA. Coauthor Douglas Hansen is a general contractor and certified combination inspector with over 30 years of field experience. Both authors present seminars and classes nationwide on a wide variety of building topics. Paddy Morrissey, former senior illustrator of CornerHardware.com, has been the sole illustrator for the Code Check series since its inception.