Wellbeing at Work (Hardcover)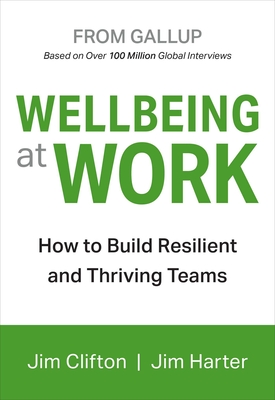 $27.95

Ships from Warehouse, Usually in 1-8 Days
Description
---
What if the next global crisis is a mental health pandemic?

It is here now.

One-third of Americans have shown signs of clinical anxiety or depression, and the current state of suffering globally has risen significantly.

The mental health pandemic manifests everywhere, not least in your workplace. As organizations around the world face health and social crises, as well as economic uncertainty, acknowledging and improving wellbeing in your workplace is more critical than ever.

Increasingly, leaders and managers must support mental health and cultivate resilience in employees — not just increase engagement and performance. Based on more than 100 million Gallup global interviews, Wellbeing at Work shows you how to do just that.

Coauthored by Gallup's CEO and its Chief Workplace Scientist, Wellbeing at Work explores the five key elements of wellbeing — career, social, financial, physical and community — and how organizations can help employees and teams thrive in those elements. The book also gives leaders ideas and action items to help employees use their innate talents and strengths to thrive in each of the wellbeing elements. And Wellbeing at Work introduces a metric to report a person's best possible life: Gallup Net Thriving, which will become the "other stock price" for organizations.

In a world where work and life are more blended than ever, maximizing employee wellbeing takes on greater urgency.

Wellbeing at Work shows leaders how to create a thriving and resilient culture. If you and your leaders don't change the world, who will?

Wellbeing at Work includes a unique code to take the CliftonStrengths assessment, which reveals your top five strengths.
About the Author
---
Jim Clifton is Chairman and CEO of Gallup and bestselling author of Born to Build, The Coming Jobs War and the #1 Wall Street Journal bestseller It's the Manager. His most recent innovation, the Gallup World Poll, is designed to give the world's 7 billion citizens a voice in virtually all key global issues. Under Clifton's leadership, Gallup has expanded from a predominantly U.S.-based company to a worldwide organization with 40 offices in 30 countries and regions. Clifton is currently a Distinguished Visiting Professor and Senior Fellow of the Frank Hawkins Kenan Institute of Private Enterprise at the University of North Carolina.

Jim Harter, Ph.D., is Chief Scientist, Workplace for Gallup. He has led more than 1,000 studies of workplace effectiveness, including the largest ongoing meta-analysis of human potential and business unit performance. The bestselling author of 12: The Elements of Great Managing, Wellbeing: The Five Essential Elements and the #1 Wall Street Journal bestseller It's the Manager, Harter has also published articles in many prominent business and academic journals.