Before you buy…
We're glad to again service customers, even though our former store front has closed and we operate this web store under reduced services.
Just scroll to the bottom to review limits placed on orders. .
On Grand Strategy (Hardcover)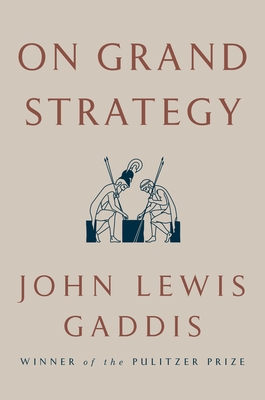 Description
---
"The best education in grand strategy available in a single volume . . . a book that should be read by every American leader or would-be leader."—The Wall Street Journal

A master class in strategic thinking, distilled from the legendary program the author has co-taught at Yale for decades

John Lewis Gaddis, the distinguished historian of the Cold War, has for almost two decades co-taught grand strategy at Yale University with his colleagues Charles Hill and Paul Kennedy.  Now, in On Grand Strategy, Gaddis reflects on what he has learned.  In chapters extending from the ancient world through World War II, Gaddis assesses grand strategic theory and practice in Herodotus, Thucydides, Sun Tzu, Octavian/Augustus, St. Augustine, Machiavelli, Elizabeth I, Philip II, the American Founding Fathers, Clausewitz, Tolstoy, Lincoln, Wilson, Franklin D. Roosevelt, and Isaiah Berlin.  On Grand Strategy applies the sharp insights and wit readers have come to expect from Gaddis to times, places, and people he's never written about before.  For anyone interested in the art of leadership, On Grand Strategy is, in every way, a master class.
About the Author
---
John Lewis Gaddis is the Robert A. Lovett Professor of History at Yale University, and was the founding director of the Brady-Johnson Program in Grand Strategy. His previous books include The United States and the Origins of the Cold War; Strategies of Containment; The Long Peace; We Now Know; The Landscape of History; Surprise, Security, and the American Experience; and The Cold War: A New History. Professor Gaddis teaches courses on Cold War history, grand strategy, biography, and historical methodology. He has won two undergraduate teaching awards at Yale and was a 2005 recipient of the National Humanities Medal. His George F. Kennan: An American Life won the 2012 Pulitzer Prize in Biography.
Praise For…
---
"[T]he best education in grand strategy available in a single volume . . . a long walk with a single, delightful mind . . . On Grand Strategy is a book that should be read by every American leader or would-be leader." — John Nagl, Wall Street Journal
 
"A remarkably erudite volume…[that] renders nuanced verdicts on an eclectic cohort of thinkers, writers, monarchs and conquerors…Gaddis has indisputably earned the right to plow different fields of historical inquiry, which he does in On Grand Strategy with self-evident glee and peripatetic curiosity." —Washington Post

"Thought-provoking…The approach is highly idiosyncratic and the structure loose; it has something of the feel of a personal manifesto or intellectual memoir." —Weekly Standard

"[An] eminently readable book by a master historian…It is a brilliant book—learned, seductively written, deep." —The New Criterion
 
"Lively…Gaddis concludes with an invaluable warning that true morality embraces neither messianic interventionism nor the quest for utopianism…Instead, ethical leadership pursues the art of the possible for the greater (not the greatest) good…On Grand Strategy is many things—a thoughtful validation of the liberal arts, an argument for literature over social science, an engaging reflection on university education and some timely advice to Americans that lasting victory comes from winning what you can rather than all that you want." —The New York Times Book Review
 
 "An extraordinary treatise on the need to teach the principles of sound strategy to today's leaders…The book…is a rich one. It makes sense of our world, but is also capable of beautifully crafted pithy historical judgments…It is a book that cares about liberty, choice and a moral compass, that warns against the hubris of an angry Bonaparte on the turn in a Russian winter, against leaders who do not listen or learn. A training manual for our troubled times."
—The Times (UK)

"A fine summary of the complex concepts explored in [Gaddis's] Grand Strategy seminar, full of vivid examples of leadership and strategic thinking, from the Persian king Xerxes to Churchill's and Roosevelt's WWII strategies…Gaddis brings a deep knowledge of history and a pleasingly economical prose style to this rigorous study of leadership."  —Publishers Weekly

"A capacious analysis of how leaders make strategic decisions…A lively, erudite study of the past in service of the future." —Kirkus Reviews 


On The Cold War: A New History
 
"Outstanding . . . The most accessible distillation of that conflict yet written." - The Boston Globe

"Energetically written and lucid, it makes an ideal introduction to the subject." - The New York Times

"A fresh and admirably concise history . . . Gaddis's mastery of the material, his fluent style and eye for the telling anecdote make his new work a pleasure." - The Economist
 
 
On George F. Kennan: An American Life
Winner of the Pulitzer Prize
 
''Magisterial . . . [Kennan] bids fair to be as close to the final word as possible on one of the most important, complex, moving, challenging, and exasperating American public servants . . . We can be grateful to John Lewis Gaddis for bringing Kennan back to us, thoughtful, human, self-centered, contradictory, inspirational­—a permanent spur as consciences are wont to be. Masterfully researched, exhaustively documented, Gaddis' moving work gives us a figure with whom, however one might differ on details, it was a privilege to be a contemporary.'' - Henry A. Kissinger, New York Times Book Review
 
"[A] first-rate biography . . . Kennan's life maps right onto twentieth-century political history, and no one is better qualified than Gaddis to lead the way through it . . . Gaddis has written with care and elegance, and he has produced a biography whose fineness is worthy of its subject." –The New Yorker
STOREFRONT CLOSED FOR REGULAR BUSINESS
Nevertheless, UPB provides ship-to-home service.
Unless and until we move our on-line fulfillment team to different premises, everything you purchase from us ships from warehouses outside of Berkeley.
Much of what we used to carry on store shelves is available, except for very expensive books, used books, and titles fallen between printings.
A number of limitations apply during this period of reduced operations:
Only orders that subtotal under $75.00 will ship.
Thus, we may remove items from a multi-book order and ask you to resubmit them on a separate order.
Sometimes we may have to split an order because books are stocked at different warehouses. Sorry, it's impossible to tell in advance when this may happen.
Credit card orders only
Many high demand titles ship fairly quickly. Most other titles travel from back east, adding 2 to 3 days to delivery
Althoug we love you in Canada, Latin America, and else where, U.S. orders only.
Certain publishers set low margins on certain titles. Sorry, we've had to raise prices on these, some we don't offer at all.
You can also purchase eBooks and audio books through us. Distributed by Hummingbird, they include publications from the major trade publishers. Just access the menu link or the sidebar image above.
We greatly appreciate your support of the store with your book orders. Need a book without our current shopping restrictions? We recommend Bookshop. View our affiliate page, then search for whatever book you'd like.
---
Should you have questions, email us via our contact form. Since none of will be keeping regular hours, it may take a day or two to get back with you.
The Cafe Ohlone has closed for the duration of the epidemic. They will probably reopen at a different location when they do.
From 1974, University Press Books has stoked the blaze of well over ten thousand minds on fire, carrying new scholarship published by the great university presses in the English-speaking world.
Since our founding, we've added quality fiction and creative non-fiction to our selection, without drfiting from our mission to showcase top new texts introduced by university presses.
Order from us. Visit us. Let well-wrought words churn and burn within.