The Great Cholesterol Myth, Revised and Expanded: Why Lowering Your Cholesterol Won't Prevent Heart Disease--and the Statin-Free Plan that Will - National Bestseller (Paperback)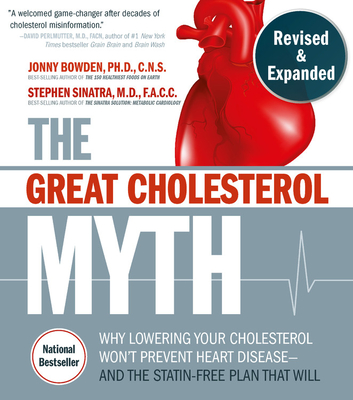 $27.99

Ships from Warehouse, Usually in 1-8 Days
Description
---
The best-selling book on heart disease, updated with the latest research and clinical findings on high-fat/ketogenic diets, sugar, genetics, and other factors.

Heart disease is the #1 killer. However, traditional heart disease protocols—with their emphasis on lowering cholesterol—have it all wrong. Emerging science is showing that cholesterol levels are a poor predictor of heart disease and that standard prescriptions for lowering it, such as ineffective low-fat/high-carb diets and serious, side-effect-causing statin drugs, obscure the real causes of heart disease. Even doctors at leading institutions have been misled for years based on creative reporting of research results from pharmaceutical companies intent on supporting the $31-billion-a-year cholesterol-lowering drug industry.

The Great Cholesterol Myth reveals the real culprits of heart disease, including: inflammation, fibrinogen, triglycerides, homocysteine, belly fat, triglyceride to HDL ratios, and high glycemic levels.

Best-selling health authors Jonny Bowden, PhD, and Stephen Sinatra, MD, give readers a four-part strategy based on the latest studies and clinical findings for effectively preventing, managing, and reversing heart disease, focusing on diet, exercise, supplements, and stress and anger management. 

Myths vs. Facts

Myth: High cholesterol is the cause of heart disease.
Fact: Cholesterol is only a minor player in the cascade of inflammation which is a cause of heart disease.

Myth: Saturated fat is dangerous.
Fact: Saturated fats are not dangerous. The killer fats are the transfats from partially hydrogenated oils.
​
Myth: The higher the cholesterol, the shorter the lifespan.
Fact: Higher cholesterol protects you from gastrointestinal disease, pulmonary disease, and hemorrhagic stroke.

Myth: High cholesterol is a predictor of heart attack.
Fact: There is no correlation between cholesterol and heart attacks.

Myth: Lowering cholesterol with statin drugs will prolong your life.
Fact: There is no data to show that statins have a significant impact on longevity.

Myth: Statin drugs are safe.
Fact: Statin drugs can be extremely toxic including causing death.

Myth: Statin drugs are useful in men, women, and the elderly.
Fact: Statin drugs do the best job in middle-aged men with coronary disease.

Myth: Statin drugs are useful in middle-aged men with coronary artery disease because of its impact on cholesterol.
Fact: Statin drugs reduce inflammation and improve blood viscosity (thinning blood). Statins are extremely helpful in men with low HDL and coronary artery disease.
About the Author
---
Jonny Bowden, PhD, CNS, (Woodland Hills, CA), also known as The Nutrition Myth Buster, is a nationally known, board-certified nutritionist and expert on diet and weight loss. He has appeared on the Dr. Oz Show, Fox News, CNN, MSNBC, ABC, NBC, and CBS and has contributed to articles in the New York Times, Forbes, the Daily Beast, Huffington Post, Vanity Fair Online, Men's Heath, Prevention, and dozens of other print and online publications. He is a popular speaker who presents at both academic and consumer events all over the world.
Stephen Sinatra, M.D., is a board-certified cardiologist, educator, and author who created the Manchester, CT-based Heart MD Institute (www.heartmdinstitute.com) as an educational platform focused on prevention and proactive lifestyle changes to live a healthier life. He is the author of Reverse Heart Disease Now, The Sinatra Solution, Lower Your Blood Pressure in Eight Weeks, and Heart Sense for Women. He has also contributed to several prestigious peer-reviewed medical journals, including the Journal of the American Medical Association (JAMA), Heart Disease, CT Medicine, and the Journal of Cardiopulmonary Rehabilitation.
Praise For…
---
"This book reveals the true dietary villain when it comes to heart disease and it's not saturated fat! Backed by scientific research from peer reviewed journals, this is an excellent read with potentially life-saving information."—NINA TEICHOLZ, New York Times best-selling author of The Big Fat Surprise

"Jonny Bowden, Ph.D., and Stephen Sinatra, M.D., have brought the science of cholesterol into the 21st century. This book significantly moves the needle on our understanding of health and disease."—SHAWN BAKER, M.D., author of The Carnivore Diet

"If you want to know the truth about cholesterol, and what you absolutely must do to improve your heart health, this is the book for you. Jonny Bowden and Dr. Stephen Sinatra reveal the facts in a compelling and insightful way. This invaluable book belongs on the bookshelf of anyone who cares about the truth in medicine and healing."—DANIEL AMEN, M.D., CEO, Amen Clinics, Inc., author of The Daniel Plan, Change Your Brain Change You

"There's a persistent myth in our current culture: cholesterol and saturated fat are the enemy, leading to heart disease and a short life. Jonny Bowden and Steven Sinatra break that antiquated paradigm with a hammer of balanced truth! Highly recommended!"—DR. WILL COLE, best-selling author of The Inflammation Spectrum and Ketotarian

"If you have any lingering fears about cholesterol and what it means for your health, read this book! When you're done with it, pass it on to your physician!"—JENNIFER ISENHART, writer/director, Fat Fiction

"Thanks to the extensive scientific evidence provided by Bowden and Sinatra, the truth about cholesterol will hopefully end the utter madness that has plagued our society for far too long. Don't even think about taking another statin drug, cutting your fat and cholesterol intake, or other 'heart-healthy' measures until you read The Great Cholesterol Myth."—JIMMY MOORE, host of Livin' La Vida Low-Carb, and co-author of Keto Clarity, Cholesterol Clarity

"The Great Cholesterol Myth shows that the primary cause of heart attacks is not cholesterol but insulin resistance. Timely and important—it will show you what steps to take to prevent and reverse heart disease."—STEVEN MASLEY, M.D., FAHA, FACN, C.N.S., best-selling author of The 30-Day Heart Tune-Up

"A must-read for anyone interested in learning how deception and financial gain have dominated current diet and cholesterol treatment recommendations, with evidence-based advice on which foods and behavioral strategies can optimize your health."—DAVID DIAMOND, PH.D., Professor, Departments of Psychology, Molecular Pharmacology and Physiology

"Education is the key to health for both the patient and the health care provider. The updated 'Cholesterol Myth' is there for everyone's education. It is a sign of maturity for all to admit when you do not know something and here's a great introduction to your learning."—GARY FETTKE, once sanctioned Australian orthopedic surgeon and real-food advocate
UPB open Tuesday through Friday 1PM - 6PM, Saturday Noon - 5pm
2430 Bancroft Way
The store known for serving pure brain food has returned to our old digs for a few months to sell down inventory and bid fare thee well to our decades of in-store customers.
Days and hours subject to change.
Note: This site lists what's available for special order from Ingram Content Group.
Visit our pages at Alibris or Biblio to survey in-store stock priced above $19.95.
Discount applies only to in-store purchases.
Cafe Ohlone
Once hosted by UPB, Cafe Ohlone now serves guests outside the Hearst Museum of Anthropology on the Cal campus.
Savor the foods which characterized east bay cuisine for thousands of years, before European contact. Brought to you by Mak'amham.