The Last Flower: A Parable in Pictures (Hardcover)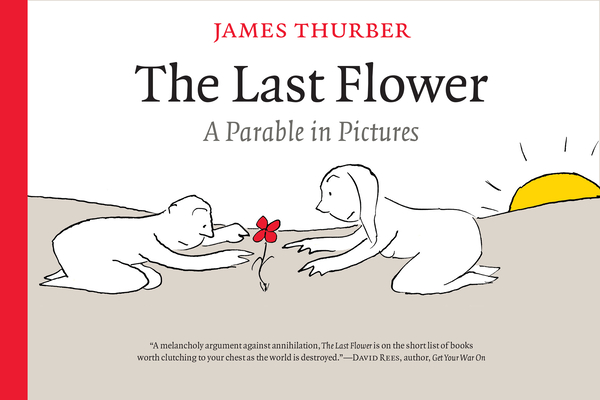 Description
---
Originally published in November 1939, two months after World War II officially began, James Thurber's parable in pictures-- a graphic novel ahead of its day--about eternal cycles of war, peace, love, and the resilience of one little flower remains as relevant today as it was then. The New York Times called it "at once one of the most serious and one of the most hilarious contributions on war."
    Civilization has collapsed  after World War XII, dogs have deserted their masters, all the groves and gardens have been destroyed, and love has vanished from the earth. Then one day, "a young girl who had never seen a flower chanced to come upon the last one in the world." Written among the sorrow and chaos of war, dedicated to this only child " in the wistful hope that her world will be better than mine." The new printing will feature new scans of Thurber's original 1939 drawings.
About the Author
---
The author of nearly forty books,including essays, short stories, fables,plays, and children's stories, James Thurber (1894-1961) created and acerbic world of beleaguered husbands, domineering women, and fabulous animals; no one before or since has drawn dogs like he did. A native of Columbus, Ohio, he worked as a newspaperman before joining the staff of the New Yorker. A self-proclaimed "painstaking writer who doodles for relaxation," he began his career as a cartoonist when E.B. White, his office mate, rescued his drawings from the trash.

Praise For…
---
"A melancholy argument against annihilation, The Last Flower is on the short list of books worth clutching to your chest as the world is destroyed."—David Rees, author, Get Your War On
UPB open Tuesday through Friday 1PM - 6PM, Saturday Noon - 5pm
2430 Bancroft Way
The store known for serving pure brain food has returned to our old digs for a few months to sell down inventory and bid fare thee well to our decades of in-store customers.
Days and hours subject to change.
Note: This site lists what's available for special order from Ingram Content Group.
Visit our pages at Alibris or Biblio to survey in-store stock priced above $19.95.
Discount applies only to in-store purchases.
Cafe Ohlone
Once hosted by UPB, Cafe Ohlone now serves guests outside the Hearst Museum of Anthropology on the Cal campus.
Savor the foods which characterized east bay cuisine for thousands of years, before European contact. Brought to you by Mak'amham.