Toward a Unified Military Response: Hurricane Sandy and the Dual Status Commander: Hurricane Sandy and the Dual Status Coommander (Paperback)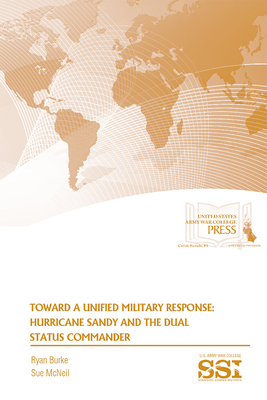 Description
---
The 2013-14 Army War College Key Strategic Issues List stated: "If Hurricane Sandy is seen as an archetype of a complex catastrophe, then a careful analysis of the effectiveness of the DoD response within the context of dual status commanders [DSCs], lead federal agencies, and state response capabilities needs to be conducted." This monograph does exactly that as it carefully and comprehensively analyzes the DSC-led military response to Hurricane Sandy in New York. Through this lens, it illustrates and discusses the perspectives of the DSC construct and offers recommendations for leveraging existing capabilities and improving those deemed insufficient. Using a case study approach, this analysis addresses notable issues of constitutionality, legality, policy, financial considerations, and even politics, all uniquely situated between individual states' interests and those of the federal government. To provide military and defense officials with a greater understanding of the benefits and limitations of the DSC arrangement during a no-notice/limited-notice incident, this monograph offers objective and systematic documentation of the Sandy response. It concludes by offering a series of actionable recommendations aimed at improving operational decisionmaking, policy, and legislation specifically related to DSCs during no-notice/limited-notice incidents.
AUDIENCE: Military soldiers, including National Guard personnel, Active and Reserve soldiers, sailors, airmen, and marines that were called upon to provide  civil support operations under the tactical command of dual status commanders during the unplanned Hurricane Sandy response in New York.  This work provides extensive analysis with recommendations for an effective operational and strategy specific plus policy-specific response relating to the lessons learned through these military forces and coordination of their service response to the New York area for Hurricane Sandy's landfall.  Municipal and State officials that coordinate operations during emergency situations may also benefit from these military coordination recommendations, analysis and lessons learned from Hurricane Sandy.  Emergency Management and military science students, especially ROTC-enrolled military students may be interested in this resource for coordination at local level.
Related products:
Enhancing Civilian Protection in Peace Operations: Insights From Africa
can be found here: 
https://bookstore.gpo.gov/products/sku/008-020-01644-6
The Limits of Military Officers: Duty to Obey Civilian Orders: A Neoclassical Perspective
is available here:
https://bookstore.gpo.gov/products/sku/008-000-01166-4
Maturing Defense Support of Civil Authorities and the Dual Status Commander Arrangement through the Lens of Process Improvement
is available here: 
https://bookstore.gpo.gov/products/sku/008-000-01140-1
Civil Affairs: Soldiers Become Governors 2014
is available here: 
https://bookstore.gpo.gov/products/sku/008-029-00572-7
About the Author
---
ABOUT THE AUTHORS

RYAN BURKE is currently a doctoral candidate at the University of Delaware, with a research focus on military civil support operations. Before starting his Ph.D., he was a captain and logistics officer in the U.S. Marine Corps, where he served as a landing support platoon commander, operations officer, and company commander with Combat Logistics Regiment 27, 2d Marine Logistics Group, Camp Lejeune, NC. He then served as the Deputy Marine Officer Instructor for the Philadelphia Naval ROTC Consortium at the University of Pennsylvania. After leaving the Marines, he worked as a Senior Consultant and Logistics Analyst for Booz Allen Hamilton supporting several Department of Defense projects both in the Pentagon and aboard Marine Corps Base Quantico. Mr. Burke holds a bachelor's degree in crime, law, and justice and a minor in military science from the Pennsylvania State University where he attended on a Naval Reserve Officers Training Corps scholarship, and a master of science in homeland security from Saint Joseph's University.
 
SUE MCNEIL is Professor of Civil and Environmental Engineering, and Public Policy and Administration at University of Delaware. She also directs the Graduate Program in Disaster Science and Management and is the former Director of the Disaster Research Center at the University of Delaware. She has extensive experience working with transportation organizations
and agencies on multicriteria decision-making, performance measures, target setting, and asset management. Dr. McNeil has served as a member of the Executive Committee of the Transportation Research Board and a member of the Board on Infrastructure and the Constructed Environment. She chaired the Transportation Research Board's Committee on Asset  Management from 2004 to 2010 and is an Emeritus Member of the committee. She is a founding Associate Editor for the American Society of Civil Engineers' Journal of Infrastructure Systems and became the Editor-in-Chief in July 2010. She is a registered professional engineer.