The Awakening (Paperback)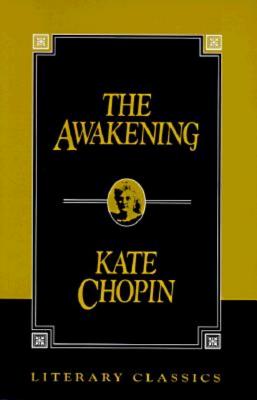 Description
---
Novelist and short story writer Kate Chopin (1851-1904) was the first American woman to deal with women's roles as wives and mothers. The Awakening (1899), her most famous novel, concerns a woman dissatisfied with her indifferent husband. She eventually gives in to her desire for other men and commits adultery. It is a searing indictment of the religious and social pressures brought to bear on women who transgress restrictive Victorian codes of behavior.
About the Author
---
KATE CHOPIN was born Katherine O'Flaherty in St. Louis, Missouri,on February 8, 1851. Following the death of her father, a warehouse worker and a director of the Pacific Railroad, in a train wreck when she was four, Kate was partly consoled by stories of old St. Louis told her by her French great-grandmother. These stories, and her combined Irish and French ancestry, helped develop her taste for music and for strange tales.

By the time she was fifteen, Kate had lost both her parents, her brother and half-brother, and her beloved great-grandmother. The tragedies suffered in early life left their mark of sadness, and the shadow of death hung over her later stories. But Kate was also self-possessed and independent. At eighteen she visited New Orleans, where she met, and two years later married, Oscar Chopin, a Creole cotton trader and commission merchant. During her years in New Orleans, Kate became acquainted with the Creole, the Cajun, the half breed, and the newly freed blacks, and drew from her experience there to create her fiction.

Following her husband's death in 1882, Kate returned with her six children to St. Louis, where she would spend the rest of her life. There she began writing stories and a novel, At Fault (1889), whose action takes place on a Southern plantation not unlike that of the Chopins near Cloutierville. This novel, published at Chopin's own expense, was a critical failure; but it suggests themes that Chopin would take up in her best work: restrictive versus genuine love; freedom versus the bowing to convention, with its attendant risks; and women throwing off traditional restraints. Chopin's stories became popular with readers, though they found her emphasis on women's liberation disquieting, as her female characters sought their own fulfillment. Chopin's stories were later collected in Bayou Folk (1894) and A Night in Acadie (1897).

These stories served as a prelude to Chopin's great novel, The Awakening (1899), about Edna Pontellier, a young married women with two small children who is gradually "awakened" to "her position in the universe as a human being." Though fond of her husband and children, Edna feels an "indescribable oppression . . . a vague anguish," arising out of her passionless marriage, and gives in to her strong desire for other men. Chopin, who was a close reader of Walt Whitman's poetry, imbues The Awakening, as well as several of her stories, with astrong sensuality and a call to self-awareness. Both Chopin's heroine and her carefully designed story bring to mind Flaubert's Madame Bovary and Willa Cather's Death Comes for the Archbishop. Though her novel outraged contemporary critics for its frank depiction of the main character's love affairs, Chopin has created a compelling and ultimately tragic drama of self-discovery and doom.

Kate Chopin died in St. Louis on August 22, 1904.