Partisans: The Conservative Revolutionaries Who Remade American Politics in the 1990s (Hardcover)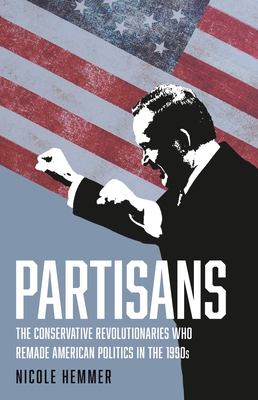 $32.00

Ships from Warehouse, Usually in 1-8 Days
Description
---
A bold new history of modern conservatism that finds its origins in the populist right-wing politics of the 1990s 
 
Ronald Reagan has long been lionized for building a conservative coalition sustained by an optimistic vision of American exceptionalism, small government, and free markets. But as historian Nicole Hemmer reveals, the Reagan coalition was short-lived; it fell apart as soon as its charismatic leader left office. In the 1990s — a decade that has yet to be recognized as the breeding ground for today's polarizing politics — changing demographics and the emergence of a new political-entertainment media fueled the rise of combative far-right politicians and pundits. These partisans, from Pat Buchanan and Newt Gingrich to Rush Limbaugh and Laura Ingraham, forged a new American right that emphasized anti-globalism, appeals to white resentment, and skepticism about democracy itself.  
 
Partisans is essential reading for anyone seeking to understand the crisis of American politics today. 
About the Author
---
Nicole Hemmer is a political historian and founding director of the Carolyn T. and Robert M. Rogers Center for the Study of the Presidency at Vanderbilt University. The cofounder of Made by History, the historical analysis section of the Washington Post, she writes regularly for the New York Times, CNN, Vox, and Politico. She lives in Nashville. 
Praise For…
---
"Lively and clarifying."—New York Times

"Incisive and convention-challenging."—The Nation

"Compelling and eminently readable…Hemmer's retelling of US political history since the so-called Reagan Revolution is masterful.  Her attention to detail, invigorating storytelling, and forceful argumentations make this essential reading for anybody interested in recent American history…Partisans is a tour de force – a sharp, innovative and accessible political history that is bound to reshape how academic historians and political observers think about US conservatism and the recent American past, more broadly….Hemmer's new book is essential reading." —Jacobin

"Hemmer has produced an absorbing and fast-paced narrative….an important contribution to the understanding of modern conservatism." —Washington Monthly

"Written in stylish, entertaining prose, Hemmer's history is nicely balanced between colorful personalities, electoral dogfights, and shrewd analysis of sea changes in ideology and public attitudes. This is a stimulating take on a crucial political era."
 —Publishers Weekly

"A sobering analysis of a slowly unfolding political movement that may one day spell the end of American democracy."—Kirkus Reviews

Nicole Hemmer's Partisans shines fresh, provocative light on America's political history, showing that Ronald Reagan's anointed successors were not  public servants so much as performance artists growing rich and powerful by selling division and resentment. Partisans provides a whole new meaning to the Reagan Revolution by focusing on the charlatans of the 1990's it spawned. —Jane Mayer, Chief Washington Correspondent, The New Yorker

"Partisans is full of sharp insights, especially on political radio and TV—for instance on why Bill Maher was least as influential in how we got where we are as Newt Gingrich. This is the best account out there of what happened to the Republican Party in the 1990s."
 —Rick Perlstein, author of Reaganland

"Nicole Hemmer is both shrewd and wise in her understanding of the history of American conservatism and the long-term influence of right-wing media. Partisans brilliantly explains why Reaganism gave way to Trumpism and calls much-needed attention to the importance of Pat Buchanan's nationalist insurgency in the 1990s as a pivot point. An essential and engaging book that explains how we got here."—E. J. Dionne Jr., author of Why the Right Went Wrong

"Partisans offers an exciting new history of the 1990s, uncovering how the far right took over the Republican Party in the years following the Reagan era. This is a vivid and eye-opening reinterpretation of a decade that has been long dismissed as America's holiday from history."—Leah Wright Rigueur, author of The Loneliness of the Black Republican