Essential: How the Pandemic Transformed the Long Fight for Worker Justice (Hardcover)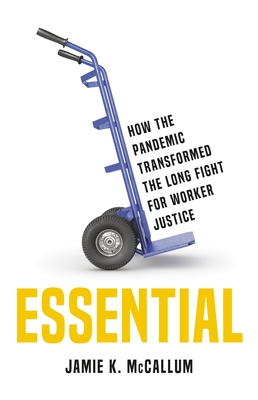 $30.00

Ships from Warehouse, Usually in 1-8 Days
Description
---
How essential workers' fight for better jobs during the pandemic revolutionized US labor politics 

Throughout the coronavirus pandemic, essential workers lashed out against low wages, long hours, and safety risks, attracting a level of support unseen in decades. This explosion of labor unrest seemed sudden to many. But Essential reveals that American workers had simmered in discontent long before their anger boiled over.  

Decades of austerity, sociologist Jamie K. McCallum shows, have left frontline workers vulnerable to employer abuse, lacking government protections, and increasingly furious. Through firsthand research conducted as the pandemic unfolded, McCallum traces the evolution of workers' militancy, showing how their struggles for safer workplaces, better pay and health care, and the right to unionize have benefitted all Americans and spurred a radical new phase of the labor movement. This is essential reading for understanding the past, present, and future of the working class. 
About the Author
---
Jamie K. McCallum is professor of sociology at Middlebury College. He is the author of Worked Over and Global Unions, Local Power, which won the American Sociological Association's prize for the best book on labor. His writing has appeared in the Washington Post, Mother Jones, Dissent, and Jacobin. He lives in Weybridge, Vermont. 
Praise For…
---
"McCallum's latest book on the state of labor in the U.S. takes stock of how the pandemic sparked a mass worker rejection of low-wage jobs, from the "Great Resignation" to unionization efforts at Amazon."—New York Times Book Review

"Insightful, thought‑provoking and peppered with helpful statistics and charts, Essential is both a clarion call to
improve the lives of the working class and a primer on how their prosperity—or lack of it—is tied to the fate of all Americans."—Shelf Awareness

"The Middlebury College professor's new book hits a hot topic with its look at how the COVID-19 pandemic upended public conversation regarding working conditions."—Burlington Free Press

"Interweaving deeply affecting personal stories with whip-smart structural analysis, this is a revealing diagnosis of America's ills and an invigorating call for change."—Publishers Weekly

"A thoughtful consideration of work and the workaday world that brings the class struggle to the fore."—Kirkus

"Essential shows how we, essential workers, were sacrificed during the pandemic—how we were told we were essential but not given workplace protections, how we had to choose between our jobs and keeping our families safe from the virus. Essential catalogs the increase in worker militancy during the pandemic, especially by Black and Brown workers who bore the brunt of the virus, police violence, and economic injustice. This book shows us without a doubt that labor struggles are racial justice struggles. Most importantly, Essential is a call to action: we need increased workplace militancy to challenge capitalism. As workers, our labor—and our ability to withhold it—is our power."—Chris Smalls, president and founder, Amazon Labor Union

"Why the recent surges in union popularity and new organizing all across America? What stake do the rest of us have in these brave workers' success? Jamie McCallum explains how we reached this moment and what the future could hold in an invigorating, urgent book that is, to borrow its title, essential reading."—Nancy MacLean, author of Democracy in Chains

"By combining rich storytelling from the front lines of the pandemic and a deep historical lens, Essential brings to life a critical reality: Capitalism is quite literally killing us, and only through worker solidarity across our economy can we protect ourselves and advance our future."—Sara Nelson, International President, Association of Flight Attendants-CWA, AFL-CIO

"In the early days of the pandemic, we cheered for essential workers. Today, their labor is again ignored by too many journalists and scholars. Not McCallum, who in Essential tells the gripping, deeply researched story of how millions were able to organize for change during the crisis. He reveals what these workers accomplished throughout the pandemic and what remains left undone, showing how worker power can help build us a better world."—Bhaskar Sunkara, author of The Socialist Manifesto

"McCallum has written a wonderfully illuminating book. Its broad topic is rising inequality in the United States. But it takes a distinctive approach, homing in on the circumstances of the worst-off among us—the working people on whom we all depend. McCallum calls them 'the new servant class,' and his documentation of their increasingly dangerous and difficult lives makes a powerful case for the imperative of radical reform. But by underlining the significance of care work, Essential also suggests the reforms to which we should aspire: a society based on equality, cooperation, and mutuality."—Frances Fox Piven, co-author of Poor People's Movements

"Essential is a compelling, in-depth look into the heroism of the nation's frontline workers during the pandemic. Millions of long-underappreciated workers—supermarket cashiers, warehouse workers, fast-food cooks, meatpacking workers—were suddenly hailed as essential, but at the same time, corporate America treated them as expendable and exploitable. Well-researched and highly readable, Essential examines one of the most encouraging developments during the pandemic: many essential workers took to the streets, went on strike, protested, and organized to demand better treatment, stronger protections, and the respect they deserve. McCallum voices his hopes that this militancy could have transformed America, but he explains why it fell short—and what still needs to be done to lift America's workers and create a far fairer, less exploitative economy."—Steven Greenhouse, author of Beaten Down, Worked Up

"McCallum goes beyond the cliche that the pandemic revealed the existing faultlines and inequalities of our society. Rather, the dangers and burdens borne by 'essential workers' are reshaping the fabric of social relations, creating new forms of exploitation and struggle. Closely observed and passionately written, Essential is a necessary intervention."—Gabriel Winant, author of The Next Shift