No Right to an Honest Living: The Struggles of Boston's Black Workers in the Civil War Era (Hardcover)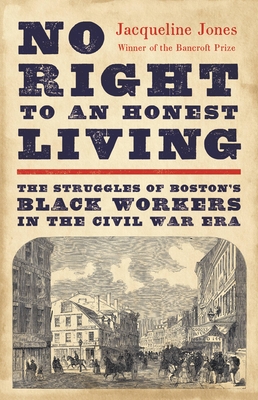 $35.00

Ships from Warehouse, Usually in 1-8 Days
Description
---
From a Bancroft Prize winner, a harrowing portrait of Black workers and white hypocrisy in nineteenth-century Boston  
 
Impassioned antislavery rhetoric made antebellum Boston famous as the nation's hub of radical abolitionism. In fact, however, the city was far from a beacon of equality. 
 
In No Right to an Honest Living, historian Jacqueline Jones reveals how Boston was the United States writ small: a place where the soaring rhetoric of egalitarianism was easy, but justice in the workplace was elusive. Before, during, and after the Civil War, white abolitionists and Republicans refused to secure equal employment opportunity for Black Bostonians, condemning most of them to poverty. Still, Jones finds, some Black entrepreneurs ingeniously created their own jobs and forged their own career paths. 
 
Highlighting the everyday struggles of ordinary Black workers, this book shows how injustice in the workplace prevented Boston—and the United States—from securing true equality for all. 
About the Author
---
Jacqueline Jones  is the Ellen C. Temple Professor of Women's History Emerita at the University of Texas at Austin and the past president of the American Historical Association. Winner of the Bancroft Prize for Labor of Love, Labor of Sorrow and a two-time finalist for the Pulitzer Prize, she lives in Concord, Massachusetts. 
Praise For…
---
"Superb...A brilliant exposé of hypocrisy in action, showing that anti-Black racism reigned on both sides of the Mason-Dixon Line."—Kirkus, starred review

"Jones brings this history to life with graceful storytelling and a generous use of primary sources."—Christian Science Monitor

"No Right to an Honest Living is an essential text for readers seeking to uncover material that challenges the myths of the north offering better economic conditions for Black communities and details the layers of struggles they faced for generations."—Booklist, starred review

"Expertly drawing from court records, newspaper articles, and other primary sources, Jones interweaves fine-grained accounts of internal debates with the antislavery movement with poignant depictions of the struggles and triumphs of ordinary Black Bostonians. The result is a nuanced and noteworthy addition to the history of race relations in America."—Publishers Weekly

"An essential labor history and an incredible history of the Civil War era. By focusing on Boston as a site of abolitionist activism and racist work policies, Jones offers expansive insights into the stakes of ending the institution of slavery and ushering in a period of freedom. With graceful writing and sharp analysis, Jones brings us a fuller story of the transition from Emancipation to Reconstruction to Jim Crow."
 —Marcia Chatelain, Pulitzer Prize–winning author of Franchise

"The streets of Black Boston come alive in No Right to an Honest Living, a sensitive, immersive, and exhaustive study of African American workers, their dreams, and their disappointments in the diasporic port city on the bay. A gifted practitioner of labor history and urban history, Jacqueline Jones pulls back the curtain of everyday life in this book, revealing the complexities of Black class positionality, the financial costs of abolitionist activism, the contours of the underground economy, the hidden contributions of Black women's labor inside their own homes, the dramatic effects of Irish immigration and economic recession on Black job prospects, and the fight of Black Civil War soldiers to gain fair pay for their service. In Jones's careful rendering, Boston is sometimes a safe haven and always a place of marginalization for the Black migrants and laborers who changed the city even as they made it home."
 —Tiya Miles, National Book Award-winning author of All That She Carried

"Jones's No Right to an Honest Living demonstrates the deadly convergence of the racial and capitalist orders in Civil War-era Boston, where there was no pathway to freedom but through work—and Black people were excluded from work. A singular contribution to the history of racial capitalism in the Deep North."
 —Walter Johnson, author of The Broken Heart of America

"Jones is one of our greatest historians of race in American society. In this elegantly crafted, deeply researched book, she reconstructs the troubled history of Black labor in nineteenth-century Boston through compelling biographical vignettes of workers and reformers alike. Her book is a profound reflection on the enduring tensions between America's high-minded rhetoric of liberty and equality and the persistence of racial injustice."
 —Thomas J. Sugrue, author of Sweet Land of Liberty

"Jones has done a superb job of capturing the complexity and hard edges of a turbulent era in US history. Her compelling book demonstrates that neither Boston's powerful current of abolitionism nor a great war that destroyed the institution of slavery could remove the race-based social and economic constraints that bedeviled the city's Black residents."
 —Gary W. Gallagher, author of The Enduring Civil War

"In No Right to An Honest Living, Jones provides a deeply researched, provocatively rendered, and engagingly written analysis of the conflict between Boston's egalitarian rhetoric and its racially segregated and economically exploitative reality. Black Bostonians were free, fiercely political, and comparatively successful in their fight against legal segregation and the rendition of fugitive slaves by an antebellum Federal system dedicated to the 'peculiar institution.' Yet, even as they launched a radical abolition movement alongside white antislavery allies, Black Bostonians faced employment discrimination and workplace exclusion that belied the city's self-righteous professions of racial exceptionalism. Through attentive descriptions of individual Black Bostonians—the attorney Robert Morris; the Reverend Leonard Grimes and his wife, Octavia C. Grimes; Union Army surgeon Dr. John V. DeGrasse—and the segregated economy in which they lived, Jones provides a prescient analysis of race and labor that resonates in our current political moment. A triumph of historical research, this book will be a foundational text in nineteenth century labor history."
 —Kerri Greenidge, author of Black Radical
UPB open Tuesday through Friday 1PM - 6PM, Saturday Noon - 5pm
2430 Bancroft Way
The store known for serving pure brain food has returned to our old digs for a few months to sell down inventory and bid fare thee well to our decades of in-store customers.
Days and hours subject to change.
Note: This site lists what's available for special order from Ingram Content Group.
Visit our pages at Alibris or Biblio to survey in-store stock priced above $19.95.
Discount applies only to in-store purchases.
Cafe Ohlone
Once hosted by UPB, Cafe Ohlone now serves guests outside the Hearst Museum of Anthropology on the Cal campus.
Savor the foods which characterized east bay cuisine for thousands of years, before European contact. Brought to you by Mak'amham.