Origin: A Genetic History of the Americas (Hardcover)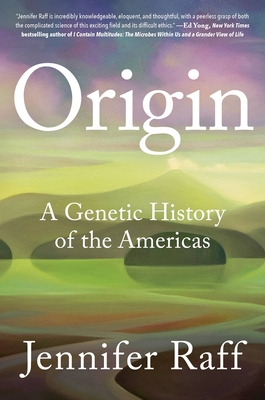 $30.00

Ships from Warehouse, Usually in 1-8 Days
Description
---
AN INSTANT NEW YORK TIMES BESTSELLER!

From celebrated anthropologist Jennifer Raff comes the untold story—and fascinating mystery—of how humans migrated to the Americas.

ORIGIN is the story of who the first peoples in the Americas were, how and why they made the crossing, how they dispersed south, and how they lived based on a new and powerful kind of evidence: their complete genomes. ORIGIN provides an overview of these new histories throughout North and South America, and a glimpse into how the tools of genetics reveal details about human history and evolution.

20,000 years ago, people crossed a great land bridge from Siberia into Western Alaska and then dispersed southward into what is now called the Americas. Until we venture out to other worlds, this remains the last time our species has populated an entirely new place, and this event has been a subject of deep fascination and controversy. No written records—and scant archaeological evidence—exist to tell us what happened or how it took place. Many different models have been proposed to explain how the Americas were peopled and what happened in the thousands of years that followed.  A study of both past and present, ORIGIN explores how genetics is currently being used to construct narratives that profoundly impact Indigenous peoples of the Americas. It serves as a primer for anyone interested in how genetics has become entangled with identity in the way that society addresses the question "Who is indigenous?"
About the Author
---
Jennifer Raff is an Assistant Professor of Anthropology at the University of Kansas with a dual Ph.D. in anthropology and genetics and over fourteen years of experience in researching ancient and modern human DNA from the Americas. In addition to her research, she has been writing on issues of scientific literacy and anthropological research at her own website, Violent Metaphors, and for The Guardian, HuffPost and Evolution Institute blogs for several years. Since 2019 she has been writing a monthly column for Forbes on emerging research in genetics and archaeology.
Praise For…
---
"Social and genetic history cannot be disentangled. ORIGIN also highlights the colonizers' evolving cultural myths that shape and are shaped by their science. This is a valuable read for consumers of popular genetics who are not aware how much science is built on colonial theft, and how Indigenous peoples push back to improve science."
—
Dr. Kim TallBear (Sisseton-Wahpeton Oyate), Professor, Faculty of Native Studies University of Alberta, Canadian Research Chair in Indigenous Peoples, Technoscience, and Society, and author of NATIVE AMERICAN DNA: TRIBAL BELONGING AND THE FALSE PROMISE OF GENETIC SCIENCE
"Rarely does a book combine the scientific, the compassionate, and the respectful when engaging with genomes, histories, and the movement of peoples. Even more rarely does a non-Indigenous scientist listen to—and learn from—Indigenous interlocutors, past and present. Jennifer Raff's ORIGIN deftly weaves a critical narrative of discoveries, biases, achievements, faults, and possibilities, offering an integrative, caring, and scientifically rigorous approach to thinking with and about the histories of the First Peoples of the Americas. Filled with complex but accessible archeological, historical, and genomic analyses presented in the context of honest and often difficult narratives, ORIGIN is a necessary and elegant text."
—
Agustín Fuentes, professor of anthropology at Princeton University and author of WHY WE BELIEVE
"Ancient DNA, extracted from bones thousands upon thousands of years old, has the potential to rewrite the story of the human past. In ORIGIN, Jennifer Raff expertly explains the complicated science behind it, how it can tell us who the first inhabitants of the Americas really were, and how they got there. ORIGIN
balances its cutting-edge command of the science and its interpretation with a deep commitment to the ethical implications of this work. The result is a lively, learned, and wonderfully told guide to a fascinating topic."—
Patrick Wyman, author of THE VERGE: Reformation, Renaissance, and Forty Years that Shook the World and host of Tides of History
"The deep history of the lands that became the Americas is one of the most fascinating, under-explored, and politicized branches in the story of humankind, and is being retold today with DNA as a source. In ORIGIN, geneticist Jennifer Raff tells that tale with great scholarship, respect, and the verve of a natural storyteller."
—
Adam Rutherford, geneticist and bestselling author of A BRIEF HISTORY OF EVERYONE WHO EVER LIVED
"[Jennifer Raff] is at the forefront of a culture change in our science. And now she has written 
the
 book anyone interested in the peopling of the Americas must read." —
The New York Times
"Jennifer Raff, a credential dynamo in the field of paleogenomics, invites readers into her off-limits laboratory where she and colleagues are rewriting deep American history. ORIGIN is an authoritative tale from the trenches told by a fearless scientist."—
David Hurst Thomas, author of SKULL WARS: Kennewick Man, Archaeology, and the Battle for Native American Identity
"Raff's book is brilliant, digging into the riveting new theories about America's first peopling, but it also does it ethically, which exposes the weird, error-riddled, and ... bonkers ideas from archeology's previous elites." —
Jack Hitt, author of OFF THE ROAD: A Modern-Day Walk Down the Pilgrim's Route into Spain
"Jennifer Raff is incredibly knowledgeable, eloquent, and thoughtful, with a peerless grasp of both the complicated science of this exciting field and its difficult ethics."—
Ed Yong, New York Times bestselling author of I CONTAIN MULTITUDES: The Microbes Within Us and a Grander View of Life
"Jennifer Raff, who wrote our May 2021 cover story, 'Journey into the Americas,' applies her experience as an anthropologist and geneticist to a sizable task: righting the wrongs of both fields' treatment of Native peoples while addressing how modern methodologies are now closer to understanding the origins of Native Americans. 
Origin
 presents how centuries of racist thinking informed theories that were widely accepted. Interstitial case studies could merit entire chapters, from a Monacan burial mound in Thomas Jefferson's backyard to a digression on whether gender or occupation can be inferred from remains. And Raff makes ample space for Native voices through original interviews."—
Maddie Bender, science journalist recognized by The New York Times
UPB open Tuesday through Friday 1PM - 6PM, Saturday Noon - 5pm
2430 Bancroft Way
The store known for serving pure brain food has returned to our old digs for a few months to sell down inventory and bid fare thee well to our decades of in-store customers.
Days and hours subject to change.
Note: This site lists what's available for special order from Ingram Content Group.
Visit our pages at Alibris or Biblio to survey in-store stock priced above $19.95.
Discount applies only to in-store purchases.
Cafe Ohlone
Once hosted by UPB, Cafe Ohlone now serves guests outside the Hearst Museum of Anthropology on the Cal campus.
Savor the foods which characterized east bay cuisine for thousands of years, before European contact. Brought to you by Mak'amham.