Flush: The Remarkable Science of an Unlikely Treasure (Hardcover)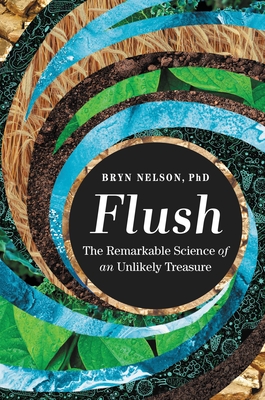 $30.00

Ships from Warehouse, Usually in 1-8 Days
Description
---
For readers of Giulia Enders' Gut and Bill Bryson's The Body, a surprising, witty and sparkling exploration of the teeming microbiome of possibility in human feces from microbiologist and science journalist Bryn Nelson.

The future is sh*t: the literal kind. For most of human history we've been, well, disinclined to take a closer look at our body's natural product—the complex antihero of this story—save for gleaning some prophecy of our own health. But if we were to take more than a passing look at our poop, we would spy a veritable cornucopia of possibilities. We would see potent medicine, sustainable power, and natural fertilizer to restore the world's depleted lands. We would spy a time capsule of evidence for understanding past lives and murderous ends. We would glimpse effective ways of measuring and improving human health from the cradle to the grave, early warnings of community outbreaks like Covid-19, and new means of identifying environmental harm—and then reversing it.

Flush is both an urgent exploration of the world's single most squandered natural resource, and a cri de coeur (or cri de colon?) for the vast, hidden value in our "waste." Award-winning journalist and microbiologist Bryn Nelson, PhD, leads readers through the colon and beyond with infectious enthusiasm, helping to usher in a necessary mental shift that could restore our balance with the rest of the planet and save us from ourselves. Unlocking poop's enormous potential will require us to overcome our shame and disgust and embrace our role as the producers and architects of a more circular economy in which lowly byproducts become our species' salvation. Locked within you is a medicine cabinet, a biogas pipeline, a glass of drinking water, a mound of fuel briquettes; it's time to open the doors (carefully!). A dose of medicine, a glass of water, a gallon of rocket fuel, an acre of soil: sometimes hope arrives in surprising packages.
About the Author
---
Bryn Nelson, PhD, is an award-winning science writer and former microbiologist who decided he'd much rather write about microbes than experiment on them. After receiving his PhD from the University of Washington, he shifted course and completed a graduate program in science writing at the University of California at Santa Cruz. Since then, he has accumulated more than two decades of journalism experience, including seven years at the Newsday science desk where he covered genetics, stem cell research, evolution, ecology, and conservation. Nelson has written for dozens of other outlets, from The New York Times, NBCNews.com, and The Daily Beast to Nature, Mosaic, and Science News for Students. 

Among his honors, Nelson has won an Association of Health Care Journalists award for larger newspapers and wire services, a New York Press Club award for best web-exclusive content, and two APEX Grand Awards for trade publication writing. In his spare time, he enjoys photography, singing, travel, and gardening in Seattle, where he lives with his husband, Geoff, and their energetic boxador, Piper.
Praise For…
---
"This is pop science done right."—Publishers Weekly, starred review

"Wide ranging and deeply informed, with a wry sense of humor, this is a solid recommendation for fans of Mary Roach, as well as anyone interested in out-of-the-box ideas to help fix some of our most pressing problems."—Booklist

"A book about poop? How gross, right? Actually, no, not at all -- and that's exactly the point Bryn Nelson makes in this smart, deeply researched book. The revulsion we feel toward an everyday bodily function is holding us back from a slew of imaginative and even ingenious responses to some of society's biggest problems. Can we find our way to a shittier and therefore happier future? Nelson thinks we can, and you will, too, after reading Flush."—Dan Fagin, author of the Pulitzer Prize-winning Toms River: A Story of Science and Salvation

"Bryn Nelson loves nearly all things scatological, from farts to poop, input and output. In his massively-researched Flush Nelson will quickly have you rethinking everything you thought you knew about shit, manure, piss, turds, urine – whatever terms you prefer. And he'll convince you that what comes from your body, and even your physical self after death, just might save the planet. It's a hell of a journey."—Laurie Garrett, Pulitzer Prize winner writer and author of The Coming Plague and Betrayal of Trust

"With humor, insight, and intestinal fortitude, Dr. Bryn Nelson persuades us that a 'shittier future' will be happier, healthier, and wealthier. Flush is a fascinating read."—Michelle Nijhuis, author of Beloved Beasts: Fighting for Life in an Age of Extinction

"Maybe you've long been fascinated with the world-saving, paradigm-shifting power of feces. Or perhaps you're brand new to the sustainable power of poop! Either way, Flush is a taboo breaker and a fecal fantasia."—Caitlin Doughty, New York Times bestselling author of Smoke Gets in Your Eyes and From Here to Eternity

"While I am no stranger to potty humor, I am surprised how much more I now appreciate our poop after reading Flush. It's something that needs to be discussed more. Number 2 really should be number 1."—Nick Caruso, New York Times Bestselling Co-Author of Does It Fart?

"We're trained by history, culture and our own childhoods not to talk too much or even think too hard about the products of our intestines. Well, get over that. Flush is a delightful counter to our ingrained and misplaced disgust, a deep, thoughtful, erudite and surprisingly funny tour through the history, mystery and promise inherent in our waste."—Maryn McKenna, author of Big Chicken, Superbug, and Beating Back the Devil
UPB open Tuesday through Friday 1PM - 6PM, Saturday Noon - 5pm
2430 Bancroft Way
The store known for serving pure brain food has returned to our old digs for a few months to sell down inventory and bid fare thee well to our decades of in-store customers.
Days and hours subject to change.
Note: This site lists what's available for special order from Ingram Content Group.
Visit our pages at Alibris or Biblio to survey in-store stock priced above $19.95.
Discount applies only to in-store purchases.
Cafe Ohlone
Once hosted by UPB, Cafe Ohlone now serves guests outside the Hearst Museum of Anthropology on the Cal campus.
Savor the foods which characterized east bay cuisine for thousands of years, before European contact. Brought to you by Mak'amham.