Before you order…
We're glad to continue serving customers, even though our former store front has closed, and we operate this web store under reduced services.
Click here or scroll to the bottom to review limits placed on orders. .
The 10 Greatest Conspiracies of All Time: Decoding History's Unsolved Mysteries (Paperback)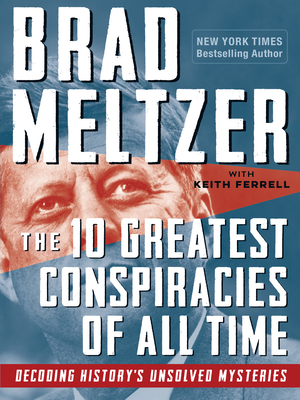 $15.95
Ships from Warehouse, Usually in 1-8 Days
Description
---
Master storyteller Brad Meltzer counts down and decodes the world's top 10 most intriguing conspiracies stories.
 
Wanted: the truth. In a riveting collection, Brad Meltzer guides us through the 10 greatest conspiracies of all time, from Leonardo da Vinci's stolen prophecy to the Kennedy assassination. This richly illustrated book serves up those fascinating, unexplained questions that nag at history buffs and conspiracy lovers: Why was Hitler so intent on capturing the Roman "Spear of Destiny?" Where did all the Confederacy's gold go? What is the government hiding in Area 51? And did Lee Harvey Oswald really act alone?

Meltzer sifts through the evidence, weighs competing theories, separates what we know to be true and what's still––and perhaps forever––unproved or unprovable, and in the end, decodes the mystery and arrives at the most likely explanation.
 
About the Author
---
Brad Meltzer is the host of Brad Meltzer's Decoded on the HISTORY network, as well as the #1 New York Times bestselling author of thrillers like The Escape Artist, non-fiction books like The Lincoln Conspiracy, and the inspiring Ordinary People Change the World kids book series, with artist Chris Eliopoulos. He also helped find the missing 9/11 flag with his History network TV show, Brad Meltzer'sLost History.