Design, Nature, and Revolution: Toward a Critical Ecology (Paperback)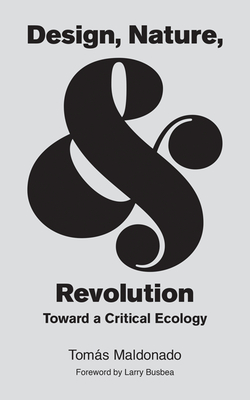 List Price: $25.00
Our Price: $20.00
(Save: $5.00 20%)
Description
---
A landmark text in design discourse for a world desperately in need of redesign—back in print

What good is design? In a world facing social unrest, political tribalism, and impending ecological doom, Tomás Maldonado poses philosophical inquiries into the role design plays during a moment of crisis and analyzes what "design" might mean as an ever-enlarging compass beyond stylization of specific objects. He discusses how design is both influenced by and central to ecological crisis. Written as a kind of obituary to the Modern movement's wave of failed "concrete utopias," Maldonado combines philosophy, sociology, radical countercultural thought, and the ecological sciences into a polemic that recenters design in the human environment. 
About the Author
---
Tomás Maldonado (1922-2018) was an Argentine painter, designer, and intellectual. He was professor of environmental design at Politecnico di Milano University and is considered one of the most significant design thinkers of the twentieth and twenty-first centuries. 
Larry Busbea is associate professor of art history at the University of Arizona, Tucson, and author of Topologies: The Urban Utopia in France, 1960–1970.
Praise For…
---
"This is an original philosophical polemic that teaches concepts, convinces us of the validity of revolutionary planning and action, and makes a crucial redefinition of the relationship between utopia and human reality."—Hermann Rebel, York University, Toronto
"Remains a significant touchstone for leftist design scholars tackling eco-political problems and the counterculture."—Simon Sadler, Room One Thousand
"To design in an environment is to design an environment. Design, Nature, and Revolution is an intense reckoning with both the impossibility and inevitability of this state of affairs."—Larry Busbea, from the Foreword
"Design, Nature, and Revolution is a brilliant example of how to handle large-scale ideas in compact arguments."—ARTFORUM
"Seventy pages of brisk essays and fifty-five pages of notes: Maldonado writes this book with the speed of a polemic and the resources of a thesis. He argues that only a sophisticated reform of the designed environment, using the most developed methods, is adequate, and he dismisses the simplifying theories of alienation and the slogans of ecology."—The Nation