The Art of Protest: Culture and Activism from the Civil Rights Movement to the Present (Paperback)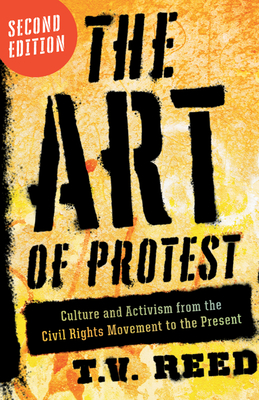 List Price: $27.00
Our Price: $21.60
(Save: $5.40 20%)
Description
---
A second edition of the classic introduction to arts in social movements, fully updated and now including Black Lives Matter, Occupy Wall Street, and new digital and social media forms of cultural resistance

The Art of Protest, first published in 2006, was hailed as an "essential" introduction to progressive social movements in the United States and praised for its "fluid writing style" and "well-informed and insightful" contribution (Choice Magazine). Now thoroughly revised and updated, this new edition of T. V. Reed's acclaimed work offers engaging accounts of ten key progressive movements in postwar America, from the African American struggle for civil rights beginning in the 1950s to Occupy Wall Street and Black Lives Matter in the twenty-first century. 
Reed focuses on the artistic activities of these movements as a lively way to frame progressive social change and its cultural legacies: civil rights freedom songs, the street drama of the Black Panthers, revolutionary murals of the Chicano movement, poetry in women's movements, the American Indian Movement's use of film and video, anti-apartheid rock music, ACT UP's visual art, digital arts in #Occupy, Black Lives Matter rap videos, and more. 
Through the kaleidoscopic lens of artistic expression, Reed reveals how activism profoundly shapes popular cultural forms. For students and scholars of social change and those seeking to counter reactionary efforts to turn back the clock on social equality and justice, the new edition of The Art of Protest will be both informative and inspiring.
About the Author
---
T. V. Reed is Buchanan Distinguished Professor Emeritus at Washington State University. His recent books include Digitized Lives: Culture, Power, and Social Change in the Internet Era and Robert Cantwell and the Literary Left. Reed edits the website culturalpolitics.net.
Praise For…
---
"This impressive study demonstrates that culture matters to social movements and that social movements affect cultural and aesthetic practices. From the transmission of southern spirituals into freedom songs during the civil rights era to political theater in antiracist struggles, from poetry as a site of feminist consciousness-raising to mural painting within the Chicano movement, from rock music and the 1980s anti-apartheid student movement to performance art in ACT UP, T. V. Reed vividly demonstrates that cultural work has been a vital medium for imagining and acting for social change."—Lisa Lowe, author of Immigrant Acts: On Asian American Cultural Politics
"The Art of Protest is a great introduction to the history of social movements, but it is also an important book about art and culture, about the infinitely lively, complex, and contradictory roles assigned to performances and cultural expressions by social movements."—George Lipsitz, author of American Studies in a Moment of Danger
"As a veteran teacher and practitioner of artistic activism, there are a few resources I have found to be invaluable: T. V. Reed's The Art of Protest is one of them. Knowledgeable, lucid, comprehensive, and creative, it is simply the best book out there for understanding how activists in the United States have used cultural strategies and artistic tactics to effectively—and affectively—challenge existing power and envision radical alternatives. I have taught the first edition of this book every year since it was first published, and the release of this new edition means I'll be teaching it for years to come."—Stephen Duncombe, co-director, Center for Artistic Activism
"T. V. Reed's fully renovated version of this landmark study is even more relevant than the original publication. In the past fifteen years, the energy and creativity of artists and cultural workers has become increasingly central to the political work of movements. An indispensable overview!"—Andrew Ross, New York University