Fighting for NOW: Diversity and Discord in the National Organization for Women (Paperback)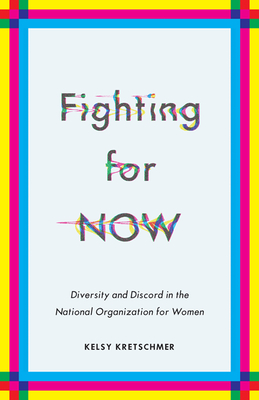 Description
---
An unparalleled exploration of NOW's trajectory, from its founding to the present—and its future

A new wave of feminist energy has swept the globe since 2016—from women's marches and the #MeToo movement to transwomen's inclusion and exclusion in feminism and participation in institutional politics. Amid all this, an organization declared dead or dying for thirty years—the National Organization for Women—has seen a membership boom. NOW presents an intriguing puzzle for scholars and activists alike. Considered one of the most stable organizations in the feminist movement, it has experienced much conflict and schism. Scholars have long argued that factionalism is the death knell of organizations, yet NOW continues to thrive despite internal conflicts. 
Fighting for NOW seeks to better understand how bureaucratic structures like NOW's simultaneously provide stability and longevity, while creating space for productive and healthy conflict among members. Kelsy Kretschmer explores these ideas through an examination of conflict in NOW's local chapters, its task forces and committees, and its satellite groups. NOW's history provides evidence for three basic arguments: bureaucratic groups are not insulated from factionalism; they are important sites of creativity and innovation for their movements; and schisms are not inherently bad for movement organizations. Hence, Fighting for NOW is in stark contrast to conventional scholarship, which has conceptualized factionalism as organizational failure. It also provides one of the few book-length explorations of NOW's trajectory, from its founding to the modern context. 
Scholars will welcome the book's insights that draw on open systems and resource dependency theories, as well as its rethinking of how conflict shapes activist communities. Students will welcome its clear and compelling history of the feminist movement and of how feminist ideas have changed over the past five decades.
About the Author
---
Kelsy Kretschmer is assistant professor of sociology at Oregon State University.
Praise For…
---
"In this examination of NOW from 1966-2009, Kelsy Kretschmer takes on the puzzle of how a long-lived organization such as NOW can survive all the schisms, splits, and turmoil it has experienced throughout its history. In this detailed analysis, Kretschmer illustrates how an organization that can be viewed as 'dully' bureaucratic instead tells an important story of how movement organizations ride the tide of conflicted activism and shifts in resources and political eras, as well as gains and defeats in the quest for social change." —Jo Reger, editor of Nevertheless, They Persisted: Feminisms and Continued Resistance in the U.S. Women's Movement

"Fighting for NOW is an exciting addition to the literature on feminist organizations. Kelsy Kretschmer provides a new perspective on the National Organization for Women as a bureaucratic organization by examining how infighting, schisms, and factionalism in NOW just might have helped the organization—and the American women's movement—to survive and remain relevant for so many years." —Suzanne Staggenborg, University of Pittsburgh