Christmas delivery ends December 13th
We much appreciate how you've made UPB your holiday shopping destination.
Keep in mind, though, that it can take time for books to arrive at your desired shipping address. Sometimes titles have to cross the country from their warehouse location.
Therefore we recommend that you place your gift orders by December 13th to maximize delivery chances before December 25th.
The Undocumented Everyday: Migrant Lives and the Politics of Visibility (Paperback)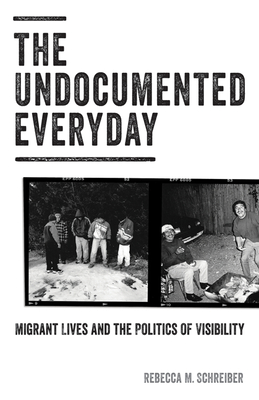 Description
---
Examining how undocumented migrants are using film, video, and other documentary media to challenge surveillance, detention, and deportation

As debates over immigration increasingly become flashpoints of political contention in the United States, a variety of advocacy groups, social service organizations, filmmakers, and artists have provided undocumented migrants with the tools and training to document their experiences.
In The Undocumented Everyday, Rebecca M. Schreiber examines the significance of self-representation by undocumented Mexican and Central American migrants, arguing that by centering their own subjectivity and presence through their use of documentary media, these migrants are effectively challenging intensified regimes of state surveillance and liberal strategies that emphasize visibility as a form of empowerment and inclusion. Schreiber explores documentation as both an aesthetic practice based on the visual conventions of social realism and a state-administered means of identification and control. 
As Schreiber shows, by visualizing new ways of belonging not necessarily defined by citizenship, these migrants are remaking documentary media, combining formal visual strategies with those of amateur photography and performative elements to create a mixed-genre aesthetic. In doing so, they make political claims and create new forms of protection for migrant communities experiencing increased surveillance, detention, and deportation.
About the Author
---
Rebecca M. Schreiber is associate professor of American studies at the University of New Mexico. She is author of Cold War Exiles in Mexico: U.S. Dissidents and the Culture of Critical Resistance (Minnesota, 2008).

Praise For…
---
"The Undocumented Everyday is a powerful and compelling account of the creative and critical documentary media strategies deployed to intervene in the representational politics of Mexican and Central American migration to the United States. This book is a nuanced aesthetic and cultural analysis of an important understudied media archive and an urgent political debate."—Ramón H. Rivera-Servera, Northwestern University
"In a perilous political moment when nativists depict migrants as a problem, Rebecca M. Schreiber foregrounds migrant self-representations. Focusing on post-9/11 photo, film, and video projects by and about Mexican and Central American migrants, The Undocumented Everyday brilliantly examines the dialectic between visibility and invisibility. Schreiber analyzes an 'aesthetics of disappearance' in which the absence of visual representations of the migrants themselves shifts the focus to the tactics of state police power. At the same time migrants revise and combine documentary conventions with an aesthetics associated with 'amateur' media in order to center their views and criticize the state. After reading The Undocumented Everyday, scholars and students alike will see migration through critically different eyes."—Curtis Marez, author of Farm Worker Futurism: Speculative Technologies of Resistance
"A  significant  scholarly  achievement  amid  growing  anti-immigrant practices  and  populist,  xenophobic  politics . . . Schreiber provides the reader with ample material to consider the contingent, localized, and strategic ways in which the undocumented—as well as their allies—use visibility and invisibility in their struggles for self-representation and belonging in a climate of increased criminalization, detainment, and deportation. Arguably, this is the central contribution of this deeply researched and well-executed book."—Surveillance & Society
"Schreiber makes an important contribution in arguing that undocumented Central American and Mexican migrants rely on and revise traditional documentary aesthetics of self-representation to establish alternative forms of belonging."—Latino Studies