Breaking Bipolar (Paperback)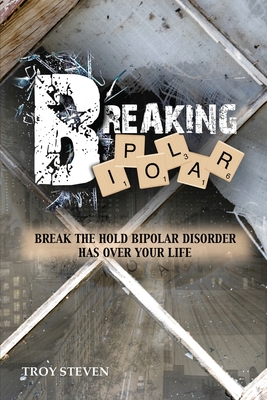 $21.24

Ships from Warehouse, Usually in 1-8 Days
Description
---
Breaking Bipolar
provides you with the battle plan, weapons, and training to successfully battle bipolar disorder and live a long and satisfying life. In this ground-breaking book, Troy Steven combines the knowledge he has gained battling bipolar disorder for over 20 years, his engineering expertise developing plans and procedures, and the wisdom of five bipolar individuals he interviewed, to equip bipolar individuals with the knowledge and skills needed to win the war against bipolar disorder.
After reading Breaking Bipolar your will you will have the knowledge and skills to:
Create your personal bipolar battle planEliminate bipolar episodesOptimize your medicationsRecognize symptoms of mania and depressionFind a psychiatrist you trustFor a support teamBoost your mental and physical healthRecover faster from a bipolar episodeDeploy your bipolar legal rights if necessaryNavigate psychiatric hospitalsWin the war against bipolar disorderMake your dreams come true
Living with Bipolar Disorder is truly a war - in fact it can be a matter of LIFE and DEATH. Statistics show that approximately 25% of people with bipolar disorder attempt suicide, and one out of five of these attempts succeed. This is the highest suicide rate of any mental illness.
How do we battle a mental illness that has the ability to take control of our thoughts and emotions and cause our minds to deceive and betray us? How do we overcome an illness that has the power to cause us to attempt suicide, become violent, and spend money recklessly, not to mention act in so many other destructive ways? How do we surmount the health issues attributed to bipolar disorder such as a shorter life span, obesity, diabetes, and abuse of drugs and alcohol?
The best solution is to follow a lifelong whole-life wellness plan that is based upon the expert recommendations of the medical community. Breaking Bipolar will give you that plan.
The book you are holding in your hands promises one thing: to provide you the weapons and training to fight bipolar illness strategically, intelligently, and as a warrior. Equipped with a battle plan to combat bipolar disorder you will be well-armed to achieve victory. This is your life - you don't get another
UPB open Tuesday through Friday 1PM - 6PM, Saturday Noon - 5pm
2430 Bancroft Way
The store known for serving pure brain food has returned to our old digs for a few months to sell down inventory and bid fare thee well to our decades of in-store customers.
Days and hours subject to change.
Note: This site lists what's available for special order from Ingram Content Group.
Visit our pages at Alibris or Biblio to survey in-store stock priced above $19.95.
Discount applies only to in-store purchases.
Cafe Ohlone
Once hosted by UPB, Cafe Ohlone now serves guests outside the Hearst Museum of Anthropology on the Cal campus.
Savor the foods which characterized east bay cuisine for thousands of years, before European contact. Brought to you by Mak'amham.