A Letter to Liberals: Censorship and COVID: An Attack on Science and American Ideals (Children's Health Defense) (Hardcover)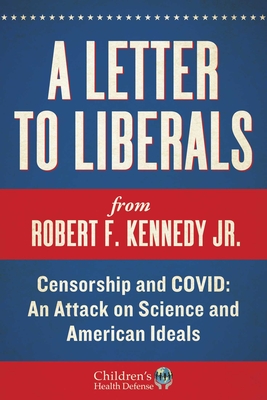 $16.99

Ships from Warehouse, Usually in 1-8 Days
Description
---
A leading Democrat challenges his party to return to liberal values and evidence-based science
Democrats were the party of intellectual curiosity, critical thinking, and faith in scientific and liberal empiricism. They once took pride in understanding how to read science critically, exercising healthy skepticism toward notoriously corrupt entities like the drug companies that brought us the opioid crisis, and were outraged by the phenomenon of "agency capture" and the pervasive control of private interests over Congress, the media, and the scientific journals. 
During the COVID pandemic, these attitudes have taken a back seat to blind faith in government mandates and countermeasures driven by pharmaceutical companies and captive federal agencies, promoted by corporate media, and cynically exploiting the fears of the American people. 
A Letter to Liberals
is Robert F. Kennedy Jr.'s, challenge to "lockdown liberalism's" embrace of policies that are an affront to once cherished precepts. 
Kennedy invites readers to look at the data in order to answer questions such as:
Did COVID vaccines really save millions and end the pandemic?
Why were the lowest COVID death rates in countries and states that relied on therapeutic drugs, and in countries with the lowest vaccination rates?
Did vaccines prevent infection or transmission as officials promised?
Why do COVID vaccines appear to show "negative efficacy"—making the vaccinated more susceptible to COVID.
Why does the most reliable data suggest that COVID vaccines do not lower the risk of death and hospitalization.
Should government technocrats be partnering with media and social media titans to censor and suppress the questioning of government policies?
And why have so many liberals abandoned fundamental Constitutional principles in their headlong rush to embrace pandemic policies pushed by captured bureaucrats, feckless politicians, a compromised news media, and Big Pharma?
In his November 2021 book
The Real Anthony Fauci
, which sold over 1,000,000 copies, Kennedy made predictions that have matured from "conspiracy theories" to proven facts. Among these:
Masks Are Ineffective and Dangerous
Social Distancing Was Not Science-Based
School Closures Were Not Science-Based
Lockdowns Were Counterproductive
Vaccinating Children Causes More Harm and Death Than It Averts
Officials Wrongly Used PCR Tests to Justify the Countermeasures
COVID-19 May Have Come from Wuhan Lab
Natural Immunity is Superior to Vaccine Immunity 
Kennedy throws down the gauntlet for the kind of vigorous scientific debate that liberals have long stood for and strives to ensure that unbiased honesty and well-researched thought is brought to bear on one of the most important and still unfolding chapters in human history. 
About the Author
---
Robert F. Kennedy, Jr. is a New York Times bestselling author and one of the nation's leading environmental activists. His writing has been included in anthologies of America's best crime writing, best science writing, and best political writing. He is president of Waterkeeper Alliance, the world's largest clean water advocacy group; a professor of environmental litigation at Pace University Law School in White Plains, NY; and a senior attorney at the Natural Resources Defense Council. Mr. Kennedy is a former Assistant District Attorney in Manhattan. He cohosts thre weekly radio show Ring of Fire.
Praise For…
---
"Where have all the liberals gone, and how were they replaced by a Bizarro 'left' promoting militant obedience to government decree, total state surveillance, universal segregation in the name of 'public health,' and—above all—iron censorship of every dissident opinion, every inconvenient fact? However it happened, this vast perversion of 'the left' has had a catastrophic impact on both science and democracy, both of which require free speech and free inquiry, as all creatures need to breathe; and so we must make every effort to restore that liberal legacy—as we may start to do by sharing this brave, lucid little book with everyone we know who's still regurgitating bits of COVID propaganda. Whether they might benefit from this essential book (as millions have been wakened by The Real Anthony Fauci) is, finally, up to them; but it is up to us to tell them that it's here (since 'our free press' won't do it)."
—Mark Crispin Miller, professor of media studies at New York University; editor, News from Underground
 
Praise for Robert F. Kennedy Jr.

"I deeply respect [Bobby], and I think if there's anyone that deserves the Nobel Peace Prize, he is the one."
—Robert W. Malone, MD, virologist, immunologist, molecular biologist
 
"RFK Jr is a tireless champion of Americans' rights to be informed about their medical choices and has been way out front in warning us of the dangers of an out-of-control pharmaceutical industry."
—Naomi Wolf, bestselling author of The Beauty Myth, Give Me Liberty, and Outrages

"Throughout history, fear has been used to manipulate and control populations. In a democracy, we have the privilege and responsibility to question the things we are encouraged to fear. Robert F. Kennedy Jr. provides something denied to most Americans in recent years: the opportunity to hear more than one perspective."
—Gavin de Becker, bestselling author of The Gift of Fear
 
UPB open Tuesday through Friday 1PM - 6PM, Saturday Noon - 5pm
2430 Bancroft Way
The store known for serving pure brain food has returned to our old digs for a few months to sell down inventory and bid fare thee well to our decades of in-store customers.
Days and hours subject to change.
Note: This site lists what's available for special order from Ingram Content Group.
Visit our pages at Alibris or Biblio to survey in-store stock priced above $19.95.
Discount applies only to in-store purchases.
Cafe Ohlone
Once hosted by UPB, Cafe Ohlone now serves guests outside the Hearst Museum of Anthropology on the Cal campus.
Savor the foods which characterized east bay cuisine for thousands of years, before European contact. Brought to you by Mak'amham.