The Ultimate Guide to Companion Gardening for Beginners & the Ultimate Guide to Greenhouse Gardening for Beginners & Winter Gardening for Beginners (Paperback)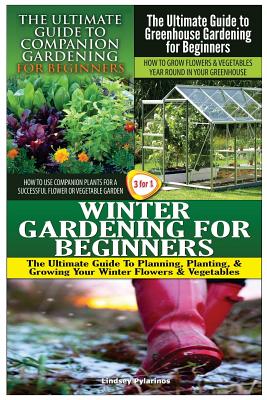 $30.47

Ships from Warehouse, Usually in 1-8 Days
Description
---
The Ultimate Guide to Companion Gardening for Beginners: How to Use Companion Plants for a Successful Flower or Vegetable Garden & Greenhouse Gardening for Beginners: How to Grow Flowers and Vegetables Year-Round In Your Greenhouse & Winter Gardening for Beginners: The Ultimate Guide to Planning, Planting & Growing Your Winter Flowers and Vegetables
Companion Gardening
Companion gardening is just planting certain plants together because they will help each other grow and become healthier. It is said that companion gardening is even better than using fertilizers or artificial ways of letting plants grow because the plants can benefit from each other and it's all a natural process.
Greenhouse Gardening
A greenhouse allows you to plant all year round- This is the most compelling reason why gardening enthusiasts make use of greenhouses. Whether you are a breeder, a farmer, or a hobbyist, you'll love to have the chance to enjoy gardening 24/7. Unfortunately, the fact is that you can't do exactly that on a lot of places in the world. A greenhouse provides you with the opportunity to grow your plants indoors while weather conditions outside are less than ideal. With the ability to change up conditions inside the greenhouse, you can grow particular plants there in any part of the year.
Winter Gardening
Regardless of whether your region's winters are a perpetual chill or pleasantly moderate, gardening can have a lot of difficulties, but it also provides opportunities. Whether you are planning for your summer or spring planting, looking to grow fresh herbs and vegetables, or simply want to keep your favorite plants alive during the colder months, winter gardening provides a lot more options that you probably ever realized. There really is no reason for you not to keep your thumb green throughout the entire year.
UPB open Tuesday through Friday 1PM - 6PM, Saturday Noon - 5pm
2430 Bancroft Way
The store known for serving pure brain food has returned to our old digs for a few months to sell down inventory and bid fare thee well to our decades of in-store customers.
Days and hours subject to change.
Note: This site lists what's available for special order from Ingram Content Group.
Visit our pages at Alibris or Biblio to survey in-store stock priced above $19.95.
Discount applies only to in-store purchases.
Cafe Ohlone
Once hosted by UPB, Cafe Ohlone now serves guests outside the Hearst Museum of Anthropology on the Cal campus.
Savor the foods which characterized east bay cuisine for thousands of years, before European contact. Brought to you by Mak'amham.