The Ultimate Guide to Companion Gardening for Beginners: How to Use Companion Plants for a Successful Flower or Vegetable Garden (Paperback)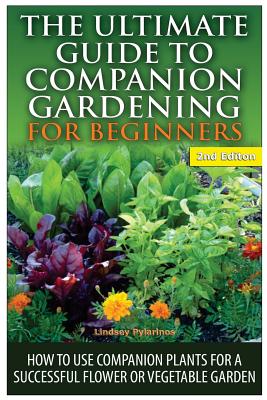 $30.47

Ships from Warehouse, Usually in 1-8 Days
Description
---
The Ultimate Guide to Companion Gardening for Beginners 2nd Edition: How to Use Companion Plants for a Successful Flower or Vegetable Garden JUST RELEASED 2ND EDITION
Companion gardening is just planting certain plants together because they will help each other grow and become healthier. It is said that companion gardening is even better than using fertilizers or artificial ways of letting plants grow because the plants can benefit from each other and it's all a natural process.
Some of the basics of Companion Gardening:
Tall plants are planted near shorter plants so they could some shade for the shorter plants. This works best between sunflowers and corn.
Companion Plants can lure away pests from green leafy vegetables, and they can also attract beneficial insects to help in the pollination of flowers.
For instance, aphids are attracted to plants like Nasturtium, this lures them away from the other plants in the garden.
You can plant two plants on the same patch which will save you space and time.
Incompatible Pairings include planting garlic and onions near peas and beans. Because doing so will stunt the growth of the peas and beans.
It would be best for you to record what is happening in your garden via a logbook or a gardening journal so that you can observe which plants are good with each other and which plants are not.
Purchase now to learn more
All Inside...
What is Companion Gardening?Phases of Companion GardeningCategories of Companion GardeningCompanion Planting ChartPerfect CombinationsMuch, much more
Purchase your copy today.
UPB open Tuesday through Friday 1PM - 6PM, Saturday Noon - 5pm
2430 Bancroft Way
The store known for serving pure brain food has returned to our old digs for a few months to sell down inventory and bid fare thee well to our decades of in-store customers.
Days and hours subject to change.
Note: This site lists what's available for special order from Ingram Content Group.
Visit our pages at Alibris or Biblio to survey in-store stock priced above $19.95.
Discount applies only to in-store purchases.
Cafe Ohlone
Once hosted by UPB, Cafe Ohlone now serves guests outside the Hearst Museum of Anthropology on the Cal campus.
Savor the foods which characterized east bay cuisine for thousands of years, before European contact. Brought to you by Mak'amham.