Christmas delivery ends December 13th
We much appreciate how you've made UPB your holiday shopping destination.
Keep in mind, though, that it can take time for books to arrive at your desired shipping address. Sometimes titles have to cross the country from their warehouse location.
Therefore we recommend that you place your gift orders by December 13th to maximize delivery chances before December 25th.
Fiske Guide to Colleges 2020 (Paperback)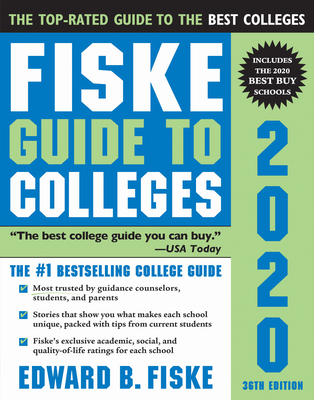 Sorry, Not Available through UPB
Description
---
"The best college guide you can buy."--USA Today
Every college and university has a story, and no one tells those stories like former New York Times education editor Edward B. Fiske. That's why, for more than 35 years, the Fiske Guide to Colleges has been the leading guide to 320+ four-year schools, including quotes from real students and information you won't find on college websites. Fully updated and expanded every year, Fiske is the most authoritative source of information for college-bound students and their parents. Helpful, honest, and straightforward, the Fiske Guide to Colleges delivers an insider's look at what it's really like to be a student at the "best and most interesting" schools in the United States, plus Canada, Great Britain, and Ireland--so you can find the best fits for you.
In addition to detailed and candid stories on each school, you will find:
A quiz to help you understand what you are really looking for in a collegeLists of strong programs and popular majors at each college"Overlap" listings to help you expand your optionsIndexes that break down schools by state, price, and average debtExclusive academic, social, and quality-of-life ratingsAll the basics, including financial aid stats, SAT/ACT scores, and acceptance rates
Plus a special section highlighting the public and private Best Buy schools--colleges that provide the best educational value. The perfect thing if you're looking for gifts for teenage boys 14-16 or gifts for teenage girls 14-16, or for the high school sophomore in your life.