Befriending Death: Over 100 Essayists on Living and Dying (Hardcover)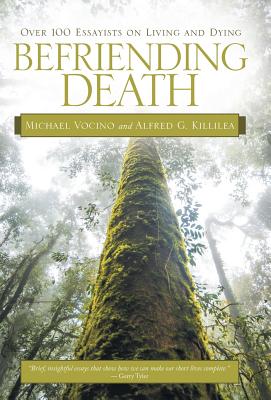 $26.95

Ships from Warehouse, Usually in 1-8 Days
Description
---
It's not easy to speak about death in our culture. As children of revolution, we think of our country as young, energetic, and future oriented. Our ideals of progress and vigor seem contradicted by the concept of death. But the silence about death in America is a lost opportunity for people to find insight and support in walking "that lonesome valley."
In Befriending Death, over 100 writers respond, in one page each, to one question: In the face of death, how do you find meaning and fulfillment in life? Penned from people from a variety of backgrounds, the essays take death seriously and openly and discuss how the authors find meaning in life. This chance for a rare sharing of views on a truly profound subject has attracted commentators who are deeply religious and those who are not religious, noted authors and people who have never published a word, people celebrated by the world and people ignored by the world. As they are all equal in their mortality, they are equal in striving for an authentic existence and an honest description of what for them constitutes fulfillment.
While each essay in Befriending Death is unique, together they present a tapestry of courage, struggle, and insight. At a time when we are often overwhelmed by the eagerness of people to provide their opinions on politics and sports, here is a rare opportunity to hear people share their most profound views on life and death.