Poetry Cocktail Hour!
A Benefit for UPB
June 12th, 5PM to 6:30PM on Zoom
Charlie Jane Anders will present an evening of poetry, composed and performed by luminaries Amber Tamblyn, Alejandro Murguia, Jack Foley, Stephanie Burt, Baruch Porras-Hernandez and Jessy Randall.
The Revolution from Within: Cuba, 1959-1980 (Paperback)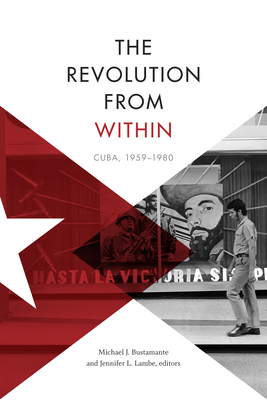 $34.74
Ships from Warehouse, Usually in 1-8 Days
Description
---
What does the Cuban Revolution look like "from within?" This volume proposes that scholars and observers of Cuba have too long looked elsewhere--from the United States to the Soviet Union--to write the island's post-1959 history. Drawing on previously unexamined archives, the contributors explore the dynamics of sociopolitical inclusion and exclusion during the Revolution's first two decades. They foreground the experiences of Cubans of all walks of life, from ordinary citizens and bureaucrats to artists and political leaders, in their interactions with and contributions to the emerging revolutionary state. In essays on agrarian reform, the environment, dance, fashion, and more, contributors enrich our understanding of the period beginning with the utopic mobilizations of the early 1960s and ending with the 1980 Mariel boatlift. In so doing, they offer new perspectives on the Revolution that are fundamentally driven by developments on the island. Bringing together new historical research with comparative and methodological reflections on the challenges of writing about the Revolution, The Revolution from Within highlights the political stakes attached to Cuban history after 1959.

Contributors. Michael J. Bustamante, Mar a A. Cabrera Ar's, Mar a del Pilar D az Casta n, Ada Ferrer, Alejandro de la Fuente, Reinaldo Funes Monzote, Lillian Guerra, Jennifer L. Lambe, Jorge Macle Cruz, Christabelle Peters, Rafael Rojas, Elizabeth Schwall, Abel Sierra Madero.
About the Author
---
Michael J. Bustamante is Assistant Professor of History at Florida International University. Jennifer L. Lambe is Assistant Professor of History at Brown University and author of Madhouse: Psychiatry and Politics in Cuban History.