Infrastructure, Environment, and Life in the Anthropocene (Experimental Futures) (Paperback)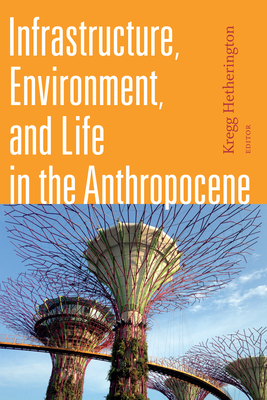 Description
---
Infrastructure, Environment, and Life in the Anthropocene explores life in the age of climate change through a series of infrastructural puzzles--sites at which it has become impossible to disentangle the natural from the built environment. With topics ranging from breakwaters built of oysters, underground rivers made by leaky pipes, and architecture gone weedy to neighborhoods partially submerged by rising tides, the contributors explore situations that destabilize the concepts we once relied on to address environmental challenges. They take up the challenge that the Anthropocene poses both to life on the planet and to our social-scientific understanding of it by showing how past conceptions of environment and progress have become unmoored and what this means for how we imagine the future.

Contributors. Nikhil Anand, Andrea Ballestero, Bruce Braun, Ashley Carse, Gast n R. Gordillo, Kregg Hetherington, Casper Bruun Jensen, Joseph Masco, Shaylih Muehlmann, Natasha Myers, Stephanie Wakefield, Austin Zeiderman.
About the Author
---
Kregg Hetherington is Associate Professor of Sociology and Anthropology at Concordia University and the author of Guerrilla Auditors: The Politics of Transparency in Neoliberal Paraguay, also published by Duke University Press.