Poetry Cocktail Hour!
A Benefit for UPB
June 12th, 5PM to 6:30PM on Zoom
Charlie Jane Anders will present an evening of poetry, composed and performed by luminaries Amber Tamblyn, Alejandro Murguia, Jack Foley, Stephanie Burt, Baruch Porras-Hernandez and Jessy Randall.
Art for People's Sake: Artists and Community in Black Chicago, 1965-1975 (Paperback)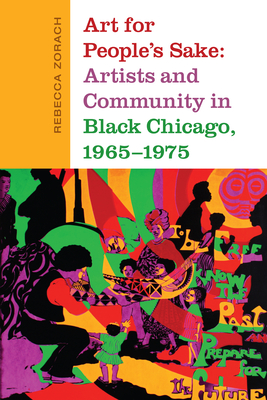 $29.95
Ships from Warehouse, Usually in 1-8 Days
Description
---
In the 1960s and early 1970s, Chicago witnessed a remarkable flourishing of visual arts associated with the Black Arts Movement. From the painting of murals as a way to reclaim public space and the establishment of independent community art centers to the work of the AFRICOBRA collective and Black filmmakers, artists on Chicago's South and West Sides built a vision of art as service to the people. In Art for People's Sake Rebecca Zorach traces the little-told story of the visual arts of the Black Arts Movement in Chicago, showing how artistic innovations responded to decades of racist urban planning that left Black neighborhoods sites of economic depression, infrastructural decay, and violence. Working with community leaders, children, activists, gang members, and everyday people, artists developed a way of using art to help empower and represent themselves. Showcasing the depth and sophistication of the visual arts in Chicago at this time, Zorach demonstrates the crucial role of aesthetics and artistic practice in the mobilization of Black radical politics during the Black Power era.
About the Author
---
Rebecca Zorach is Mary Jane Crowe Professor of Art and Art History at Northwestern University and the author and editor of several books, including The Wall of Respect: Public Art and Black Liberation in 1960s Chicago.