Civil Rights in Black and Brown: Histories of Resistance and Struggle in Texas (Paperback)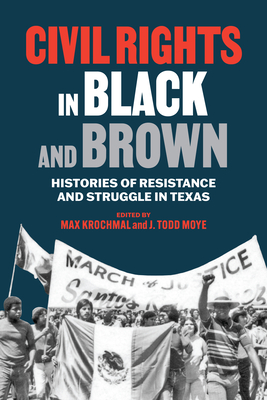 $43.75

Ships from Warehouse, Usually in 1-8 Days
Description
---
Not one but two civil rights movements flourished in mid-twentieth-century Texas, and they did so in intimate conversation with one another. Far from the gaze of the national media, African American and Mexican American activists combated the twin caste systems of Jim Crow and Juan Crow. These insurgents worked chiefly within their own racial groups, yet they also looked to each other for guidance and, at times, came together in solidarity. The movements sought more than integration and access: they demanded power and justice.
Civil Rights in Black and Brown draws on more than 500 oral history interviews newly collected across Texas, from the Panhandle to the Piney Woods and everywhere in between. The testimonies speak in detail to the structure of racism in small towns and huge metropolises—both the everyday grind of segregation and the haunting acts of racial violence that upheld Texas's state-sanctioned systems of white supremacy. Through their memories of resistance and revolution, the activists reveal previously undocumented struggles for equity, as well as the links Black and Chicanx organizers forged in their efforts to achieve self-determination.
About the Author
---
Max Krochmal is an associate professor of history at Texas Christian University. He is the author of Blue Texas: The Making of a Multiracial Democratic Coalition in the Civil Rights Era.
J. Todd Moye is the Fenton Wayne Robnett Professor of US History and the director of the Oral History Program at the University of North Texas.
Praise For…
---
This book is an important contribution to the history of White supremacy and the unremitting struggle against it in mid-twentieth century Texas…[Civil Rights in Black and Brown] pulsates with energy and showcases exciting new scholarship from talented academics with varied perspectives...This book deserves a wide readership.
— Southwestern Historical Quarterly

The oral historians on this project covered twenty urban and rural locations throughout Texas, and in doing so, have enriched the historical record in a way that should pay off for generations to come...this book is a praiseworthy testament to the power and usefulness of oral history, not only for the sake of new scholarship itself, but also to the communities served. Civil Rights in Black and Brown documents a model oral history project that many of us will benefit from for years to come.
— Oral History Review

Contending with a racist political elite, police violence, and disenfranchisement, Black and Brown Texans struggled for decades to gain basic civil rights. Exploring the oft-overlooked history of these historic struggles is essential to paving a path forward for progressive politics in our era of right-wing reaction...In addition to addressing oft-overlooked battles in Texas, the authors of the essays [in Civil Rights in Black and Brown] also address another oversight in many histories of the era, putting the focus on the base rather than leadership.
— Red Fault