Before you buy…
We're glad to again serve customers, even though our former store front has closed and we operate this web store under reduced services.
Just scroll to the bottom to review limits placed on orders. .
Leadership: In Turbulent Times (Hardcover)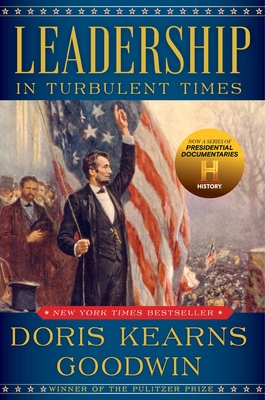 Description
---
NEW YORK TIMES BESTSELLER

"After five decades of magisterial output, Doris Kearns Goodwin leads the league of presidential historians. Insight is her imprint."—USA TODAY

"A book like Leadership should help us raise our expectations of our national leaders, our country and ourselves."—The Washington Post

"We can only hope that a few of Goodwin's many readers will find in her subjects' examples a margin of inspiration and a resolve to steer the country to a better place."—The New York Times Book Review

In this culmination of five decades of acclaimed studies in presidential history, Pulitzer Prize-winning author Doris Kearns Goodwin offers an illuminating exploration of the early development, growth, and exercise of leadership.

Are leaders born or made? Where does ambition come from? How does adversity affect the growth of leadership? Does the leader make the times or do the times make the leader?

In Leadership, Goodwin draws upon the four presidents she has studied most closely—Abraham Lincoln, Theodore Roosevelt, Franklin D. Roosevelt, and Lyndon B. Johnson (in civil rights)—to show how they recognized leadership qualities within themselves and were recognized as leaders by others. By looking back to their first entries into public life, we encounter them at a time when their paths were filled with confusion, fear, and hope.

Leadership tells the story of how they all collided with dramatic reversals that disrupted their lives and threatened to shatter forever their ambitions. Nonetheless, they all emerged fitted to confront the contours and dilemmas of their times.

No common pattern describes the trajectory of leadership. Although set apart in background, abilities, and temperament, these men shared a fierce ambition and a deep-seated resilience that enabled them to surmount uncommon hardships. At their best, all four were guided by a sense of moral purpose. At moments of great challenge, they were able to summon their talents to enlarge the opportunities and lives of others.

This seminal work provides an accessible and essential road map for aspiring and established leaders in every field. In today's polarized world, these stories of authentic leadership in times of apprehension and fracture take on a singular urgency.
About the Author
---
Doris Kearns Goodwin's interest in leadership began more than half a century ago as a professor at Harvard. Her experiences working for Lyndon B. Johnson in the White House and later assisting him on his memoirs led to her bestselling Lyndon Johnson and the American Dream. She followed up with the Pulitzer Prize–winning No Ordinary Time: Franklin & Eleanor Roosevelt: The Home Front in World War II. She earned the Lincoln Prize for the runaway bestseller Team of Rivals, the basis for Steven Spielberg's Academy Award–winning film Lincoln, and the Carnegie Medal for The Bully Pulpit, the New York Times bestselling chronicle of the friendship between Theodore Roosevelt and William Howard Taft. She lives in Concord, Massachusetts. Visit her at DorisKearnsGoodwin.com or @DorisKGoodwin.
Praise For…
---
"Written in the companionable prose that makes Goodwin's books surefire best sellers. . . . We can benefit from reminders that even flawed mortals can, in times of national emergency, achieve great things. We can only hope that a few of Goodwin's many readers will find in her subjects' examples a margin of inspiration and a resolve to steer the country to a better place."—The New York Times Book Review



"A book like Leadership should help us raise our expectations of our national leaders, our country and ourselves."—The Washington Post



"Goodwin's volume deserves much praise — it is insightful, readable, compelling even — but the strongest compliment might be this: Her book arrives just in time."—The Boston Globe



"After five decades of magisterial output, matching Pulitzer Prize-winning quality with best-selling appeal, Doris Kearns Goodwin leads the league of presidential historians. Insight is her imprint . . . Elegantly, she gathers the deeply researched strands of her big books to focus on the formative qualities of her White House heroes . . . The result is a fascinating study in contrasts, beautifully structured, as Goodwin alternates case studies of each president to examine the youthful roots of their ambition, their growth amid adversity, and their ultimate challenges."—USA Today



"An inspiring read."—Christian Science Monitor



"Published at a turbulent time, her book is a rich source of information and inspiration. . . . Most important, Goodwin reminds us that a democracy leadership is a two-way street, a mirror in which people, for better and worse, see their collective reflection."—Minneapolis Star Tribune



"A masterwork on how good leaders become great leaders, how burning personal ambition can be elevated into driving ambition for a cause greater than self. Riveting, uplifting, and incisive, Leadership is a culminating work of a true intellectual artist."— Jim Collins, author of "Good to Great," co-author "Built to Last"



"Business students invariably ask me: 'With what historical figure would you like to have lunch?' Doris Kearns Goodwin has prepared a marvelous banquet with four leaders whose lives provide lessons for all of us. Pull up a chair."—Warren Buffett



"A must read."—Morning Joe co-host Mika Brzezinski



"[An] expert, extremely relevant study."—Booklist



"With Leadership, Pulitzer Prize winner Goodwin cements her reputation as a scholar with a remarkable ability to bring the complexities of our past to life for everyday readers. It's a welcome gift indeed."—Bookpage



"Leadership is a bravura performance by Doris Kearns Goodwin, an artist who writes today with the same level of excellence that she's demonstrated for more than 40 years."—Washington Independent Review of Books


"It's as if she spent her entire career simply preparing to write this one volume. It was worth the wait. And well timed: If ever our nation needed a short course on presidential leadership, it is now."—Seattle Times
STOREFRONT CLOSED FOR REGULAR BUSINESS
Nevertheless, UPB provides ship-to-home service.
Unless and until we move our on-line fulfillment team to different premises, everything you purchase from us ships from warehouses outside of Berkeley.
Much of what we used to carry on store shelves is available, except for very expensive books, used books, and titles fallen between printings.
Certain limitations apply:
Only orders that subtotal under $75.00 will ship.
Thus, we may remove items from a multi-book order and ask you to resubmit them on a separate order.
Sometimes we may have to split an order because books are stocked at different warehouses. Sorry, it's impossible to tell in advance when this may happen.
Credit card orders only
Many high demand titles ship fairly quickly. Most other titles travel from back east, adding 2 to 5 days to delivery
Although we love you in Canada, Latin America, and else where, U.S. orders only.
Certain publishers give us low merchant discounts on certain titles, sometimes no discount at all. To be honest, we've had to raise prices on these, ranging from 5% to 30% above list.
You can also purchase eBooks and audio books through us. Distributed by Hummingbird, they include publications from the major trade publishers. Just access the menu link or the sidebar image above.
We greatly appreciate your support of the store with your book orders. Need a book without our current shopping restrictions? We recommend Bookshop. View our recommendations on Bookshop, then search for whatever book you'd like.
---
Should you have questions, email us via our contact form. Since none of are keeping regular hours, it may take a day to get back with you.
The Cafe Ohlone has closed for the duration of the epidemic. They will probably reopen at a different location when they do.
From 1974, University Press Books has stoked the blaze of well over ten thousand minds on fire, carrying new scholarship published by the great university presses in the English-speaking world.
For more than 40 years, UPB operated out of our address at 2430 Bancroft Way in Berkeley (at present still our mailing address). We're now operating on line and when possible at various pop up locations. Sign up to our mailing list for word on dates and locations of these.,/p>
Order from us. Let well-wrought words churn and burn within.