How to be a conservative (Paperback)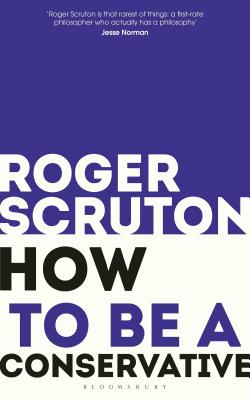 $22.00

Ships from Warehouse, Usually in 1-8 Days
Description
---
Renowned philosopher Roger Scruton draws on his own experience as a counter-culture presence in public life to explain conservatism in a skeptical age.

With soft left-liberalism as the dominant force in Western politics, what can conservatives now contribute to public debate that will not be dismissed as pure nostalgia? In this highly personal and witty book, renowned philosopher Roger Scruton explains how to live as a conservative in spite of the pressures to exist otherwise. Drawing on his own experience as a counter-cultural presence in public life, Scruton argues that while humanity might survive in the absence of the conservative outlook, it certainly won't flourish. How to be a Conservative is not only a blueprint for modern conservatism. It is a heartfelt appeal on behalf of old fashioned decencies and values, which are the bedrock of our weakened, but still enduring civilization.
About the Author
---
Sir Roger Scruton is widely seen as one of the greatest conservative thinkers of the twentieth and twenty-first centuries and a polymath who wrote a wide array of fiction, non-fiction and reviews. He was the author of over fifty books.
A graduate of Jesus College, Cambridge, Scruton was Professor of Aesthetics at Birkbeck College, London; University Professor at Boston University, and a visiting professor at Oxford University. He was one of the founders of the Salisbury Review, contributed regularly to The Spectator, The Times and the Daily Telegraph and was for many years wine critic for the New Statesman. Sir Roger Scruton died in January 2020.
Praise For…
---
"Roger Scruton is that rarest of things: a first-rate philosopher who actually has a philosophy … one of the few intellectually authoritative voices in modern British conservatism" —Spectator

"Roger Scruton is one of our great men of speculation" —Standpoint

"A persuasive and poignant little book" —The Oldie

"Elegantly written and thought-provoking ... I loved this book, especially the way it seems to be aimed as much at the heart as the mind. On both it has a cleansing effect , the equivalent of eating a tart lemon sorbet" —Country Life