Seven Days in May (Paperback)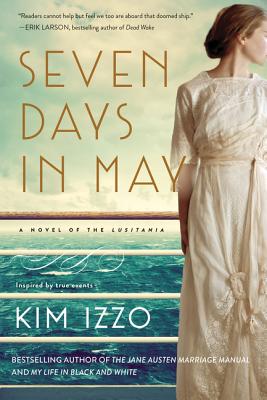 Description
---
"In this, her third novel, Kim Izzo renders the last voyage of the Lusitania in such terrifyingly accurate detail that we readers cannot help but feel we too are aboard that doomed ship—and in Winston Churchill's ultra-secret lair, Room 40—as the ineluctable forces of history converge."
   — Erik Larson, bestselling author of The Splendid and the Vile

For readers of Kate Williams, Beatriz Williams and Jennifer Robson, a captivating novel of love and resilience during the Great War, inspired by the author's family history.
As the First World War rages in continental Europe, two New York heiresses, Sydney and Brooke Sinclair, are due to set sail for England. Brooke is engaged to marry impoverished aristocrat Edward Thorpe-Tracey, the future Lord Northbrook, in the wedding of the social calendar. Sydney has other adventures in mind; she is drawn to the burgeoning suffragette movement, which is a constant source of embarrassment to her proper sister. As international tempers flare, the German embassy releases a warning that any ships making the Atlantic crossing are at risk. Undaunted, Sydney and Brooke board the Lusitania for the seven-day voyage with Edward, not knowing that disaster lies ahead.
In London, Isabel Nelson, a young woman grateful to have escaped her blemished reputation in Oxford, has found employment at the British Admiralty in the mysterious Room 40. While she begins as a secretary, it isn't long before her skills in codes and cyphers are called on, and she learns a devastating truth and the true cost of war.
As the days of the voyage pass, these four lives collide in a struggle for survival as the Lusitania meets its deadly fate. 
About the Author
---
KIM IZZO is the author of two novels, The Jane Austen Marriage Manual, which was a bestseller and has been optioned for film, and My Life in Black and White. She is the co-author of the international bestseller The Fabulous Girl's Guide to Decorum and The Fabulous Girl's Guide to Grace Under Pressure. Izzo has appeared on numerous television and radio shows, including the Oprah Winfrey Show, the Today Show, the O'Reilly Factor and Canada AM. Her advice and opinions have appeared in the pages of the New York Times Sunday Styles section, InStyle, Marie Claire, Glamour, Redbook, Cosmopolitan and Vogue (UK).
Praise For…
---
"In this, her third novel, Kim Izzo renders the last voyage of the Lusitania in such terrifyingly accurate detail that we readers cannot help but feel we too are aboard that doomed ship—and in Winston Churchill's ultra-secret lair, Room 40—as the ineluctable forces of history converge." — Erik Larson, bestselling author of Dead Wake
"A thrilling and romantic adventure on board one of history's most fabled doomed ships, in the company of an inspiring heroine you'll be cheering on every nautical mile." — Elizabeth Renzetti, author of Based On A True Story