Waterfront Manhattan: From Henry Hudson to the High Line (Hardcover)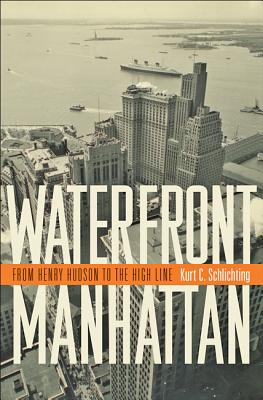 Description
---
The waterfront was the key to New York City's growth and prosperity.
For hundreds of years, the shorefront of Manhattan Island served as the country's center of trade, shipping, and commerce. With its maritime links across the oceans, along the Atlantic coast, and inland to the Midwest and New England, Manhattan became a global city and home to the world's busiest port. It was a world of docks, ships, tugboats, and ferries, filled with cargo and freight, a place where millions of immigrants entered the Promised Land.
In Waterfront Manhattan, Kurt C. Schlichting tells the story of the Manhattan waterfront as a struggle between public and private control of New York's priceless asset. Nature provided New York with a sheltered harbor but presented the city with a challenge: to find the necessary capital to build and expand the maritime infrastructure. From colonial times until after the Civil War, the city ceded control of the waterfront to private interests, excluding the public entirely and sparking a battle between shipping companies, the railroads, and ferries for access to the waterfront.
In the second half of the nineteenth century, the City of New York regained control of the waterfront, but a whirlwind of forces beyond the control of either public or private interests--technological change in the form of the shipping container and the jet airplane--devastated the city's maritime world. The city slowly and painfully recovered. Visionaries reimagined the waterfront, and today the island is almost completely surrounded by parkland, the world of piers and longshoremen gone, replaced by luxury housing and tourist attractions.
Waterfront Manhattan is a wide-ranging history that will dazzle anyone who is fascinated by New York.
About the Author
---
Kurt C. Schlichting is the E. Gerald Corrigan '63 Chair in Humanities and Social Sciences at Fairfield University, where he is a professor of sociology. He is the author of Grand Central's Engineer: William J. Wilgus and the Planning of Modern Manhattan and Grand Central Terminal: Railroads, Engineering, and Architecture in New York City.