Raising a Bilingual Child (Paperback)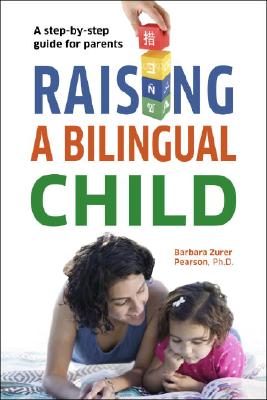 Description
---
If you would like your children to experience the benefits of becoming bilingual, but you aren't sure how to teach them a second language, then Raising a Bilingual Child is the perfect step-by-step guide for you.

Raising a Bilingual Child provides parents with information, encouragement, and practical advice for creating a positive bilingual environment. It offers both an overview of why parents should raise their children to speak more than one language and detailed steps parents can take to integrate two languages into their child's daily routine.

Raising a Bilingual Child also includes inspirational first-hand accounts from parents. It dispels the myth that bilingualism may hinder a child's academic performance and explains that learning languages at a young age can actually enhance a child's overall intellectual development.
About the Author
---
Barbara Zurer Pearson, Ph.D., is a Research Associate in Linguistics and an Adjunct Professor in the Department of Communication Disorders at the University of Massachusetts Amherst. Her Ph.D. in Applied Linguistics is from
the University of Miami. She has over twenty years of research experience in the fields of language acquisition and bilingualism and did ground-breaking work on bilingual acquisition and assessment with her research group at the
University of Miami. Those studies of bilingual infants and children have been published in the book Language and Literacy in Bilingual Children. Most recently, Barbara Zurer Pearson worked on the Diagnostic Evaluation of Language Variation (DELV), a project to develop an innovative language assessment for children funded by the National Institutes of Health.
Praise For…
---
"A timely and well-written book! … [It] helps parents prepare their children for the future…."

--J. Kevin Nugent, Ph.D., Director, The Brazelton Institute, Children's Hospital Boston and Harvard University; Professor, Child and Family Studies, University of Massachusetts Amherst

"This book is sure to become a classic! … Parents should appreciate this important book. Pearson … inspire[s] all of us to celebrate the richness of linguistic diversity in our lives."

--Kenji Hakuta, Ph.D., Lee L. Jacks Professor of Education, Stanford University, Author of Mirror of Language: The Debate on Bilingualism

"This is a book that inspires confidence that the choice of bilingualism is a good one for parents, for children, and for our society."
--Donna Christian, Ph.D., President, Center for Applied Linguistics, Washington D.C.

"Pearson has used her keen insights about the issues that parents are concerned about to paint an in-depth and interesting-to-read handbook."

--Fred Genesee, Ph.D., Professor of Psychology, McGill University, Co-author of Dual Language Instruction: A Handbook for Enriched Education

"Barbara Pearson' s [book] is a wonderfully written, sparkling composite of research results, personal narratives, practical advice, and wise enthusiasm for the project of bilingualism […]."
--Thomas Roeper, Ph.D., Professor of Linguistics, University of Massachusetts Amherst, Author of The Prism of Gramma

"I thoroughly agree with the author's insights and recommendations which are both research-based and flexible and comprehensive enough to accommodate different family situations."
--Lourdes C. Rovira, Ed.D., Associate Superintendent, Curriculum and Instructional Support, Miami-Dade County Public Schools 


"I enjoyed reading Raising a Bilingual Child and found it informative and accessible."
--Chris Rosenberg, Principal, Starr King Elementary School, San Francisco