Before you buy…
We're glad to again service customers, even though our former store front has closed and we operate this web store under reduced services.
Just scroll to the bottom to review limits placed on orders. .
Einstein's Monsters: The Life and Times of Black Holes (Hardcover)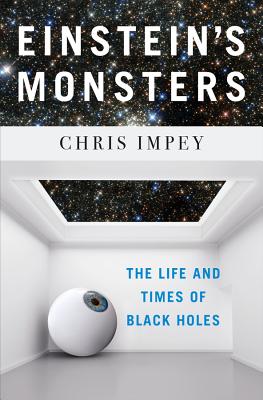 Description
---
The astonishing science of black holes and their role in understanding the history and future of our universe.
Black holes are the most extreme objects in the universe, and yet they are ubiquitous. Every massive star leaves behind a black hole when it dies, and every galaxy harbors a supermassive black hole at its center. Frighteningly enigmatic, these dark giants continue to astound even the scientists who spend their careers studying them. Which came first, the galaxy or its central black hole? What happens if you travel into one—instant death or something weirder? And, perhaps most important, how can we ever know anything for sure about black holes when they destroy information by their very nature?
In Einstein's Monsters, distinguished astronomer Chris Impey takes readers on an exploration of these and other questions at the cutting edge of astrophysics, as well as the history of black holes' role in theoretical physics—from confirming Einstein's equations for general relativity to testing string theory. He blends this history with a poignant account of the phenomena scientists have witnessed while observing black holes: stars swarming like bees around the center of our galaxy; black holes performing gravitational waltzes with visible stars; the cymbal clash of two black holes colliding, releasing ripples in space-time.
Clear, compelling, and profound, Einstein's Monsters reveals how our comprehension of black holes is intrinsically linked to how we make sense of the universe and our place within it. From the small questions to the big ones—from the tiniest particles to the nature of space-time itself—black holes might be the key to a deeper understanding of the cosmos.
About the Author
---
Chris Impey is a distinguished professor in the Department of Astronomy at the University of Arizona and the critically-acclaimed author of Beyond, How It Began, and How It Ends, and four other books, as well as two astronomy textbooks. He lives in Tucson, Arizona.
Praise For…
---
Impey skillfully weaves a fascinating tale out of the work and ideas of the scientists who…pieced together the history of black holes.
— Manjit Kumar, author of Quantum

Black holes were originally flights of theoretical fancy, difficult for even professional physicists to wrap their brains around. In Einstein's Monsters, Chris Impey shows how modern astronomy has brought them into vivid focus, and conveys how much more we're learning about these extreme beasts with every passing year.

— Sean Carroll, author of The Big Picture: On the Origins of Life, Meaning, and the Universe Itself

[Einstein's Monsters] will wow the general-interest science audience.


An absorbing and lay-reader-friendly look at the intriguing dead stars called black holes.

Fans of popular science authors such as Neil deGrasse Tyson, Lisa Randall, and Mike Brown will enjoy this wonderful, accessible introduction to black holes.
— Jason Steagall
STOREFRONT CLOSED FOR REGULAR BUSINESS
Nevertheless, UPB provides ship-to-home service.
Unless and until we move our on-line fulfillment team to different premises, everything you purchase from us ships from warehouses outside of Berkeley.
Much of what we used to carry on store shelves is available, except for very expensive books, used books, and titles fallen between printings.
A number of limitations apply during this period of reduced operations:
Only orders that subtotal under $75.00 will ship.
Thus, we may remove items from a multi-book order and ask you to resubmit them on a separate order.
Sometimes we may have to split an order because books are stocked at different warehouses. Sorry, it's impossible to tell in advance when this may happen.
Credit card orders only
Many high demand titles ship fairly quickly. Most other titles travel from back east, adding 2 to 3 days to delivery
Althoug we love you in Canada, Latin America, and else where, U.S. orders only.
Certain publishers set low margins on certain titles. Sorry, we've had to raise prices on these, some we don't offer at all.
You can also purchase eBooks and audio books through us. Distributed by Hummingbird, they include publications from the major trade publishers. Just access the menu link or the sidebar image above.
We greatly appreciate your support of the store with your book orders. Need a book without our current shopping restrictions? We recommend Bookshop. View our affiliate page, then search for whatever book you'd like.
---
Should you have questions, email us via our contact form. Since none of will be keeping regular hours, it may take a day or two to get back with you.
The Cafe Ohlone has closed for the duration of the epidemic. They will probably reopen at a different location when they do.
From 1974, University Press Books has stoked the blaze of well over ten thousand minds on fire, carrying new scholarship published by the great university presses in the English-speaking world.
Since our founding, we've added quality fiction and creative non-fiction to our selection, without drfiting from our mission to showcase top new texts introduced by university presses.
Order from us. Visit us. Let well-wrought words churn and burn within.