The Brain in Search of Itself: Santiago Ramón y Cajal and the Story of the Neuron (Paperback)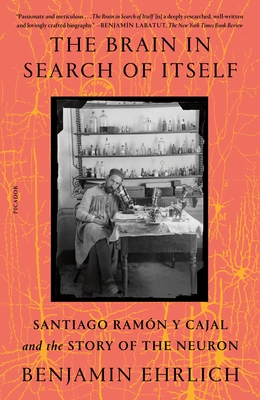 $20.00

Ships from Warehouse, Usually in 1-8 Days
Description
---
The first major biography of the Nobel Prize–winning scientist who discovered neurons and transformed our understanding of the human mind—illustrated with his extraordinary anatomical drawings

As the pioneer of modern neuroscience, Santiago Ramón y Cajal may be the most influential figure in the history of biology you've never heard of. Along with Charles Darwin and Louis Pasteur, Cajal ranks among the most brilliant and original scientists of the nineteenth century, and his discoveries have done for our understanding of the human brain what the work of Galileo and Sir Isaac Newton did for our conception of the physical universe. Cajal was awarded the Nobel Prize in 1906 for his lifelong investigation of the structure of neurons—"the mysterious butterflies of the soul," he called them, "whose beating of wings may one day reveal to us the secrets of the mind." And he produced a dazzling oeuvre of anatomical drawings, whose otherworldly beauty conjured a vivid image of our mental life.

Benjamin Ehrlich's The Brain in Search of Itself is the first major biography in English of this rare genius, who embarked on a scientific odyssey that mirrored the rocky journey of his beloved homeland of Spain into the twentieth century. Born into poverty in a mountaintop hamlet, Cajal was a willful and unruly child who at first struggled to live up to the expectations of his imperious father, a country doctor. A portrait of a nation as well as a biography, The Brain in Search of Itself follows Cajal from the hinterlands to Barcelona and Madrid, where he became an internationally celebrated figure, single-handedly raising the scientific reputation of Spain in the process. To momentous effect, Cajal demonstrated a truth that was as controversial in his own time as it is universal in ours: that the nervous system is composed of individual cells with distinctive roles, just like any other organ in the body. The Brain in Search of Itself is at once the story of how we arrived at our modern understanding of the brain and a finely wrought portrait of an individual as remarkable and complex as the subject to which he devoted his life.
About the Author
---
Benjamin Ehrlich is the author of The Dreams of Santiago Ramón y Cajal, the first translation of Cajal's dream journals into English. His work has appeared in The Gettysburg Review, The Paris Review Daily, Nautilus, and New England Review, where he serves as a senior reader.
Praise For…
---
"Passionate and meticulous . . . Ehrlich has profound sympathy and great insight into the workings of [Cajal's] mind. This comes across clearly in The Brain in Search of Itself, a deeply researched, well-written and lovingly crafted biography . . . [Ehrlich] delivers thought-provoking metaphors, unforgettable scenes and many beautifully worded phrases." —Benjamin Labatut, The New York Times Book Review

"Ehrlich is truly fascinated by Cajal, his peculiar life, self-absorption, intelligence, humility, and suffering, and in pursuing them so rigorously he gives his book an epic quality." —Alec Wilkinson, The New York Review of Books

"One of the best ways to see how science constructively stumbles toward truth is through the biography of a notable researcher. Which is what we have in Benjamin Ehrlich's The Brain in Search of Itself . . . An intimate biography that avoids hagiography." —Matthew Hutson, The Wall Street Journal

"Structured as a series of brief, captivating chapters, [this] first major English language biography of Cajal is a delightful read. With rigor and eloquent prose, Ehrlich captures the essence of Cajal's visionary thought and force of character . . . Ehrlich has done justice to Cajal, just as Cajal did justice to the brain." —Alex Gomez-Marin, Science

"Ehrlich sketches Cajal as he moved through his life, capturing moments both mundane and extraordinary . . . [The Brain in Search of Itself] is meticulously researched and utterly comprehensive . . . This biography draws a vivid picture." —Laura Sanders, Science News

"Deeply researched and intimate . . . Vivid . . . Through colorful anecdotes about Cajal's upbringing, education, career, marriage, and fatherhood, [Ehrlich] reveals his character in more detail than ever before, bringing him to life in clear and elegant prose . . . A beautiful composition that shows Cajal's indelible contribution to science and art." —Kirkus Reviews

"Benjamin Ehrlich has pulled off a surprise epic of scientific biography, brilliantly restoring the strange forgotten figure of Santiago Ramón y Cajal, the Don Quixote of Spanish science, to his original status as national treasure and outside winner of the Nobel Prize. It is a haunting story, colorfully told, with some of the quality of a folk tale. Boldly and vividly written, Ehrlich's book follows Cajal affectionately and patiently through all his struggles. Above all he makes Cajal's brain-research fascinating, and his lost Spain unforgettable. A marvellously accessible, fresh and thought-provoking book." —Richard Holmes, author of The Age of Wonder

"In this beautifully written biography, Benjamin Ehrlich brings to life the genius of Santiago Ramón y Cajal. It is the story of a boy from a tiny mountain village in Spain who goes on to the heights of scientific achievement, promoted by artistic talent comparable to that of the greatest draftsmen of the Renaissance. Cajal's vision of the brain, which Ehrlich lays out in an accessible way, is the cornerstone of modern neuroscience." —Larry W. Swanson, University Professor at the University of Southern California and author of Brain Architecture: Understanding the Basic Plan

"With this gracious and engrossing life, Benjamin Ehrlich mirrors his subject Santiago Ramon y Cajal's extraordinary quest to wrest an ordered schema from the almost inconceivable tangle of the brain's gelatinous muddle. With painstaking attention to detail, Ehrlich worries out the dazzlingly confounding intersections of chance and destiny, provenance and character, fate and freedom, that converge to shape an exemplary life. One life in probing search of another, the result being a sparkling gift for the rest of us." —Lawrence Weschler, author of And How are You, Dr Sacks? A Biographical Memoir of Oliver Sacks

"The Brain in Search of Itself is the beguiling story of 'the father of modern neuroscience,' a man who sketched a beautiful, alluring portrait of the most complex object in the known universe." —Lisa Feldman Barrett, university distinguished professor at Northeastern University and author of How Emotions Are Made: The Secret Life of the Brain and Seven and a Half Lessons About the Brain

"Despite Santiago Ramón y Cajal's many autobiographical, non-fiction, and scientific writings, we have not truly understood the man who prophetically described the cells and circuits of the nervous system and became the neuroscientist's muse. Benjamin Ehrlich presents us with a thrilling and emotional narrative of how Cajal found safe haven from a tough father in nature and art, his passionate political beliefs, and his talent for intuiting function from what he merely observed through the microscope. Ehrlich gives us a brilliant, scholarly and gripping book that I couldn't put down. His Cajalian focus on making 'composite portraits, syntheses, and interpretations' to explain his subject is a masterpiece, an effort that Cajal himself would admire." —Carol A. Mason, professor at Columbia University and president of the Cajal Club

"Written with a cool, fierce eye for details, The Brain in Search of Itself should appeal to a wide audience. Here is the first fully researched and fleshed-out biography in English of one of the founding fathers of neuroscience, a major figure in modern science. Cajal and his world come to vivid life in these pages. Benjamin Ehrlich is a natural writer, and this appealing narrative—which has the forward momentum of a good novel—tells a story that will astonish and delight readers." —Jay Parini, author of Borges and Me: An Encounter

"Santiago Ramón y Cajal is often called the father of neuroscience, yet until now, his own history has remained largely untold. In rich, poetic prose, Benjamin Ehrlich presents him here in the full context of his life and times. This is literary biography at its best, seamlessly uniting the personal and the scientific in a gripping epic with universal appeal." —Casey Schwartz, author of Attention, a Love Story and In the Mind Fields

"Thoroughly researched and beautifully written, The Brain in Search of Itself is an exceptional new biography of one of the most important neuroscientists who ever lived. Much as Cajal combined careful scientific study with his unique artistic sensibility to create striking depictions of the brain, Ehrlich unites rigorous scholarship and evocative prose to form a compelling portrait of Cajal himself—of his origins and intellectual growth, his dreams and disappointments, his crises, triumphs, and continuing legacy. To read this book is to understand the particular environment in which Cajal's genius developed, and to get as close as possible to the inner workings of his mind." —Ferris Jabr, contributing writer for The New York Times Magazine and Scientific American

"Benjamin Ehrlich's biography tackles the big, unending questions that drove Santiago Ramón y Cajal to conceive of the neuron: Where does the soul reside? What are the structures that comprise dreams, memories, consciousness? The Brain in Search of Itself shows what it means to look, and to look closely, at a person's life. Through the lens of Cajal, an unlikely visionary, Ehrlich reveals a sweeping portrait of the history of neuroscience. Cajal brought an artist's imagination to the microscope, and in Ehrlich's attentive rendering, the scientist-artist's life appears like the brain itself: both material and ethereal at once." —Jenn Shapland, author of My Autobiography of Carson McCullers
UPB open Tuesday through Friday 1PM - 6PM, Saturday Noon - 5pm
2430 Bancroft Way
The store known for serving pure brain food has returned to our old digs for a few months to sell down inventory and bid fare thee well to our decades of in-store customers.
Days and hours subject to change.
Note: This site lists what's available for special order from Ingram Content Group.
Visit our pages at Alibris or Biblio to survey in-store stock priced above $19.95.
Discount applies only to in-store purchases.
Cafe Ohlone
Once hosted by UPB, Cafe Ohlone now serves guests outside the Hearst Museum of Anthropology on the Cal campus.
Savor the foods which characterized east bay cuisine for thousands of years, before European contact. Brought to you by Mak'amham.